One of the best ways to enjoy spicy jerk chicken is to pair it with the perfect dipping sauce. Whether you like it high heat, medium heat, sweet or savory, we've got a sauce for you. Here are 11 of the best dipping sauces to spruce up your jerk chicken from some of our favorite foodies. If you're looking for the perfect dipping sauce to compliment your jerk chicken, you're in the right place!
Table of Contents
by Gimme From Scratch
"The sweet flavor of the fruit helps balance out any heat from the peppers so it's perfect not only as an ingredient in recipes but also on top off dishes like chicken or pork satay skewers! We developed this recipe specifically for our Jerk Chicken Eggrolls. So delicious!"
by Chili Pepper Madness
"A homemade hot sauce recipe made with fiery chili peppers, fresh peaches and jerk seasonings for a bit of island flare in a bottle. Perfect for chicken or shrimp."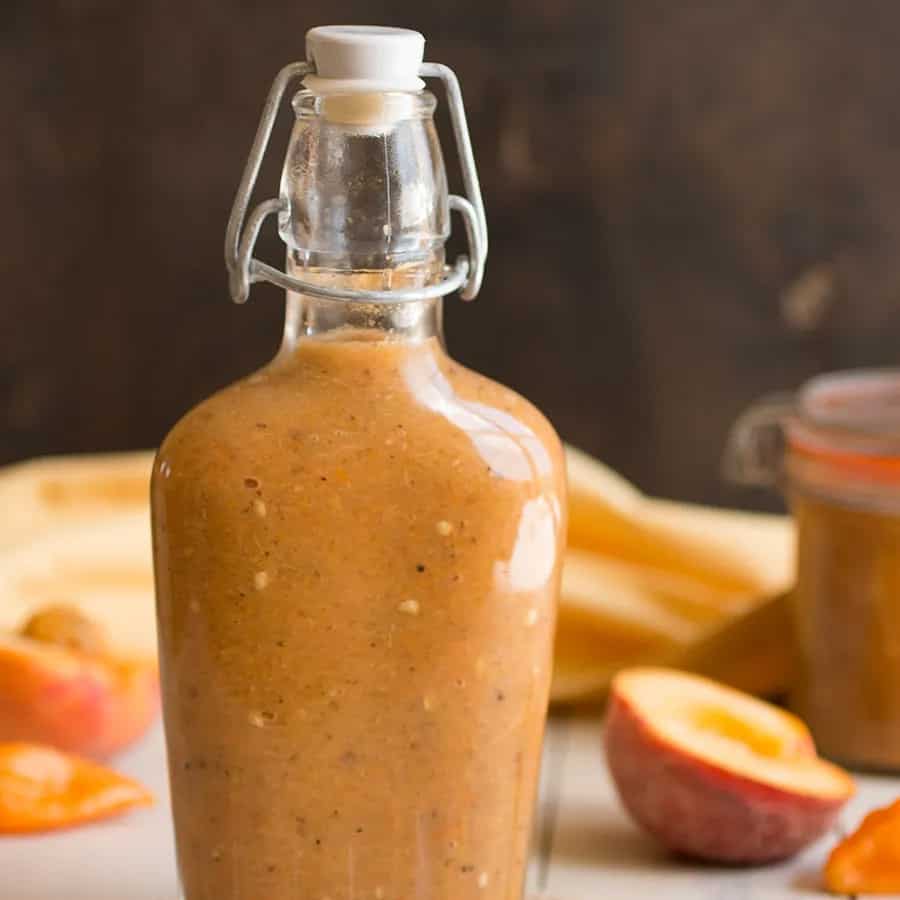 by Little Sunny Kitchen
"This dipping sauce is a copycat recipe of Benihana's ginger dipping sauce that you love! It pairs so well with hibachi steak, chicken, shrimp, veggies, and rice."
by Eating Richly
"This Jamaican burger recipe will blow your mind! It's a Jamaican jerk seasoned burger topped with spicy pineapple sauce, sweet mango, and red bell pepper. It's the stuff burger dreams are made of!"
by Grill Girl
"Traditional Jerk combines the flavors of allspice, scotch bonnet peppers, green onion, thyme, cinnamon, nutmeg, and brown sugar. It is a heady combination of aromatic spices and heat, that makes for a pungently addictive marinade."
by Southern Bytes
"Raising Cane's Dipping Sauce is a tangy, creamy, peppery, and addicting dipping sauce that goes with literally everything. We love it with french fries, chicken tenders, and burgers."
by Recipe Runner
"These Jerk Chicken Skewers with Mango Habanero Sauce are truly a flavor explosion for your mouth! Full of Caribbean flavor and just the right amount of heat and sweet. Serve with black beans and brown rice for a healthy and filling dinner!"
by Best Foods
"Our Creamy Jerk Dip recipe lets you enjoy the flavors of Jamaican jerk seasoning with your favorite chips."
by Yup…It's Vegan
"Sweet and tangy cranberries and blackberries pair perfectly with the warm profile of Jamaican jerk spice in this Jamaican jerk cranberry sauce."
by Kerri-Ann's Kravings
"This is the perfect sweet & spicy jerk dipping sauce for all your jerk meats. It's super easy to make and bursting with tons of smoky flavor."
by Jennifer J.
"If you have ever had jerk chicken you know it has a bit of heat. This sauce has all the flavors you would expect with quite the kick. Serve with rice and fried plantains and your guests will think they're at a Jamaican restaurant. It takes a little planning to allow your protein to marinate, but it's worth it."
Let us know if you give one of these jerk chicken dipping sauces a try!