If you're as passionate as I am about the magic that smoking brings to food, you're in for a treat. In this buyer's guide, I'll be the best mini smokers on the market today – a portable BBQ game-changer that is picking up steam in 2023. My list includes pellet smokers, charcoal smokers and electric smokers. There's something for everyone in this list.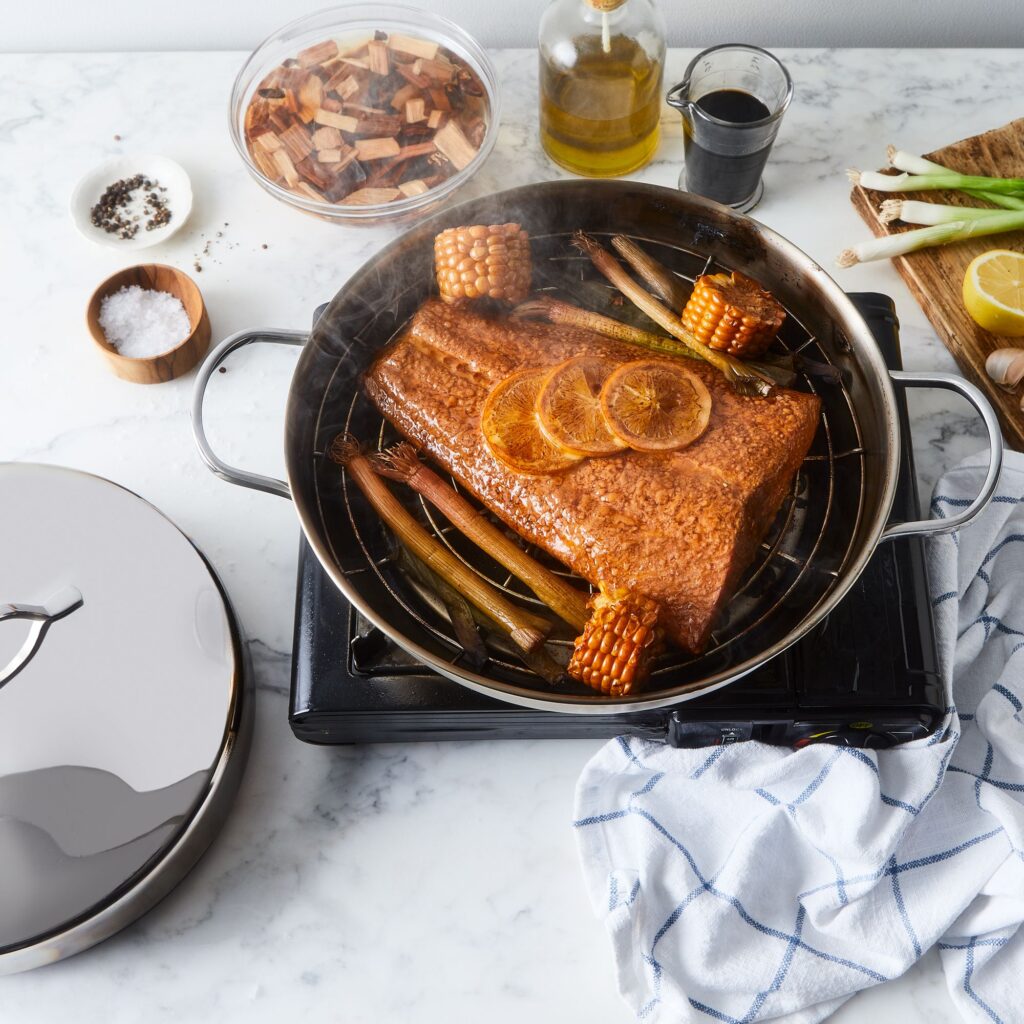 Table of Contents
What is a mini portable smoker?
A smoker is a fantastic tool that allows you to cook food in a controlled, smoky environment. The result? A tender and flavorful dish that's impossible to resist. Now, combine this with portability and you've got a small unit that's a perfect smoker for small spaces or when you're travelling about.
Mini smokers give you the ability to pack up your arsenal and bring those amazing, mouth-watering, smoke-infused flavors wherever you go. From tailgate parties to camping trips or even just a day out in the park, these compact babies bring the joy of smoking to your fingertips, no matter where you are. We're talking compact, easy to transport and perfect for small spaces, yet still capable of dishing out delectable smoky deliciousness.
Given their rise in popularity this year, I thought it was about time we figure out the best mini portable smokers of 2023. Ready to unlock a new level of flavor-filled adventure? Let's get smoking!
Why Get a Portable Smoker
If you've ever bitten into a piece of perfectly smoked meat or enjoyed the subtle smoky nuances in smoked vegetables, then you know what all the fuss is about. But the experience doesn't have to be confined to your backyard. With a good portable smoker, these flavors can travel with you!
Unparalleled Flavor: There's a certain magic that smoking adds to food. It's a flavor that's hard to describe yet instantly recognizable – a tantalizing mix of richness, depth and a hint of nostalgia that upgrades just about any dish.
Convenience and Flexibility: The beauty of a mini smoker lies in its convenience and flexibility. You can smoke your food anywhere, whether it's a beach party, camping trip, tailgate event or even just a family gathering at a park.
Perfect for Small Spaces: Not everyone has the luxury of a large outdoor space, but that shouldn't keep you from the joys of homemade smoked foods. Mini portable smokers are compact and efficient, designed to work in smaller spaces like balconies, small patios or even portable kitchens. This makes them perfect for city dwellers, apartment renters or anyone with limited outdoor space.
It's fun!: With a compact smoker, you're not just bringing the BBQ; you're bringing an experience. Whether you're cooking for friends and family or preparing a meal for yourself, using a portable smoker turns a meal into a fun culinary ride.
Criteria for Choosing the Best Portable Smoker
When it comes to choosing the best mini portable smoker, there are several factors that need to be considered. This isn't about picking the fanciest model or the one with the most bells and whistles; it's about finding a smoker that delivers in terms of performance, practicality and value. Here are the key criteria I focused on in selecting the best mini portable smokers:
Portability: Since we're focusing on mini smokers, portability is the first and most critical factor. A good portable smoker needs to be compact and easy to carry, but also sturdy enough to withstand the rigors of travel.
Size and Weight: Even among mini smokers, size and weight can vary. I was actually surprised at the size of some smokers labeled as "portable" when they were huge, bulky and heavy. I looked for smokers with a small size that struck a balance between being light enough to transport with ease and enough space to cook a reasonable amount of food.
Material: The material of the smoker plays a significant role in its durability, heat retention and overall performance. I favored smokers made from high-quality, heat-resistant materials that can stand up to high temperatures without warping or deteriorating.
Heat Control: A good smoker isn't much use if you can't control the heat. I looked for smokers with adjustable vents or dampers, which allow you to regulate the heat level inside the smoker.
Ease of Use: Whether you're a seasoned BBQ master or a smoking newbie, the best mini smokers should be user-friendly. This means easy assembly, straightforward controls and a design that makes it easy to add fuel or wood chips without disturbing the cooking process.
Price: Last but not least, price was a crucial factor. While there's often a correlation between price and quality, that doesn't mean you need to break the bank for a top-notch mini portable smoker. I've aimed to include options to suit a range of budgets, always keeping an eye on value for the money.
Quick Overview of Recommended Picks
Top Portable Smokers of 2023
The Weber Smokey Mountain Cooker impresses with its sturdy build and reliable temperature control. It's ideal for long, slow cooking, imparting a delicious smoky flavor to everything you cook. Although it's not the lightest on the list, its performance makes it worth the extra effort.
Key Features:
Built-in lid thermometer
Rust-resistant metal legs
Porcelain-enameled water pan
Fuel source: Charcoal
Pros:
Durable construction
Precise temperature control
Excellent smoky flavor
Cons:
Might be a bit heavy for some
Requires regular cleaning to prevent ash buildup.
Price range: $250 -$300
---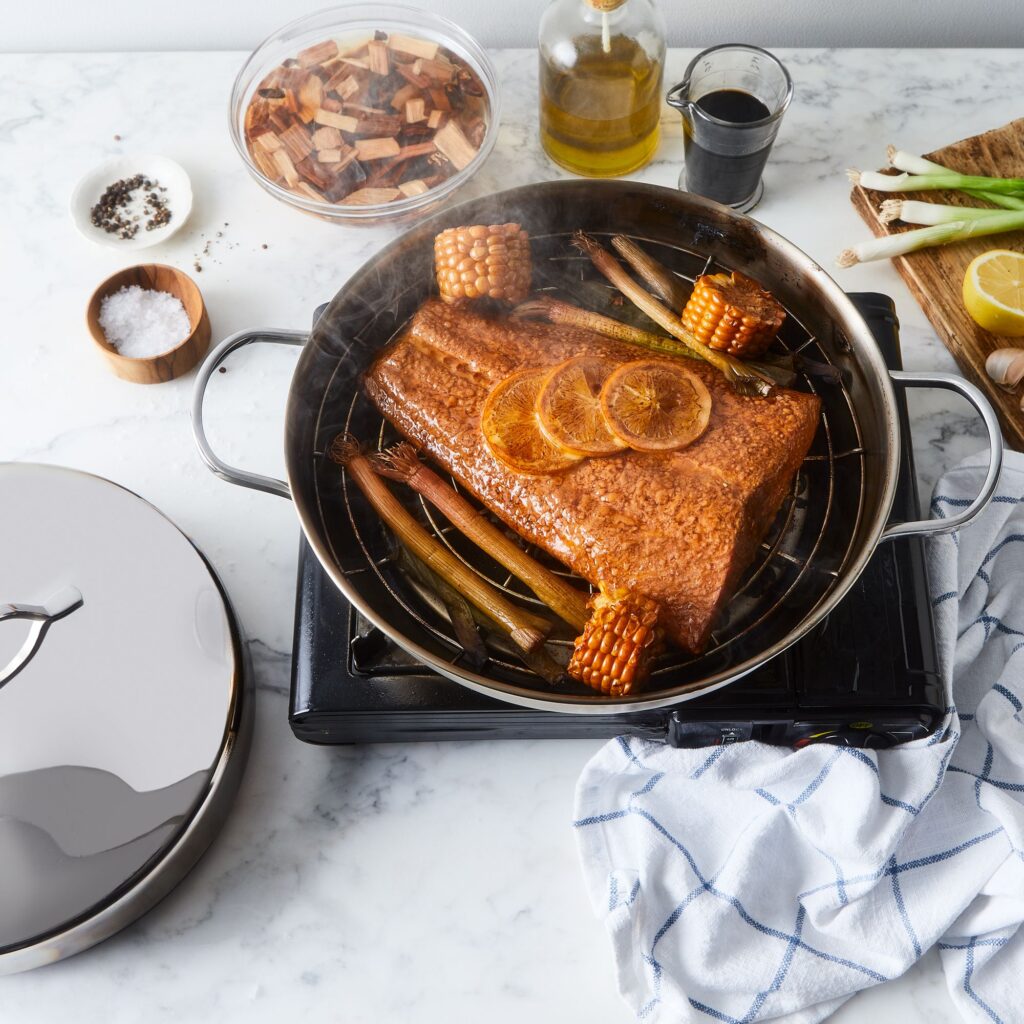 This Mini Stovetop Smoker will be your new secret weapon for infusing rich, smoky flavor into your favorite dishes. This innovative pan is designed to make smoking food at home a breeze, even for beginners. Simply heat the pan, add your choice of wood chips, place the stainless steel insert on top, and then add your ingredients. With its compatibility with all stovetops, oven-proof design (up to 600°F), and dishwasher-safe feature, this smoker is as practical as it is versatile.
Key Features:
Easy to use, even for smoking novices
Compatible with all stovetops
Oven-proof up to 600°F
Dishwasher-friendly
Stainless steel insert for easy smoking
Domed lid to trap smoke
Pros:
Versatile: Can be used to smoke a wide range of ingredients
Convenient: Safe for use in the oven and easy to clean in the dishwasher and very lightweight
User-friendly: Simple operation makes it suitable for beginners
Cons:
Requires careful heat management to prevent burning the wood chips
The intensity of smoke flavor may require some trial and error to get right
Price range: $225 -$250
---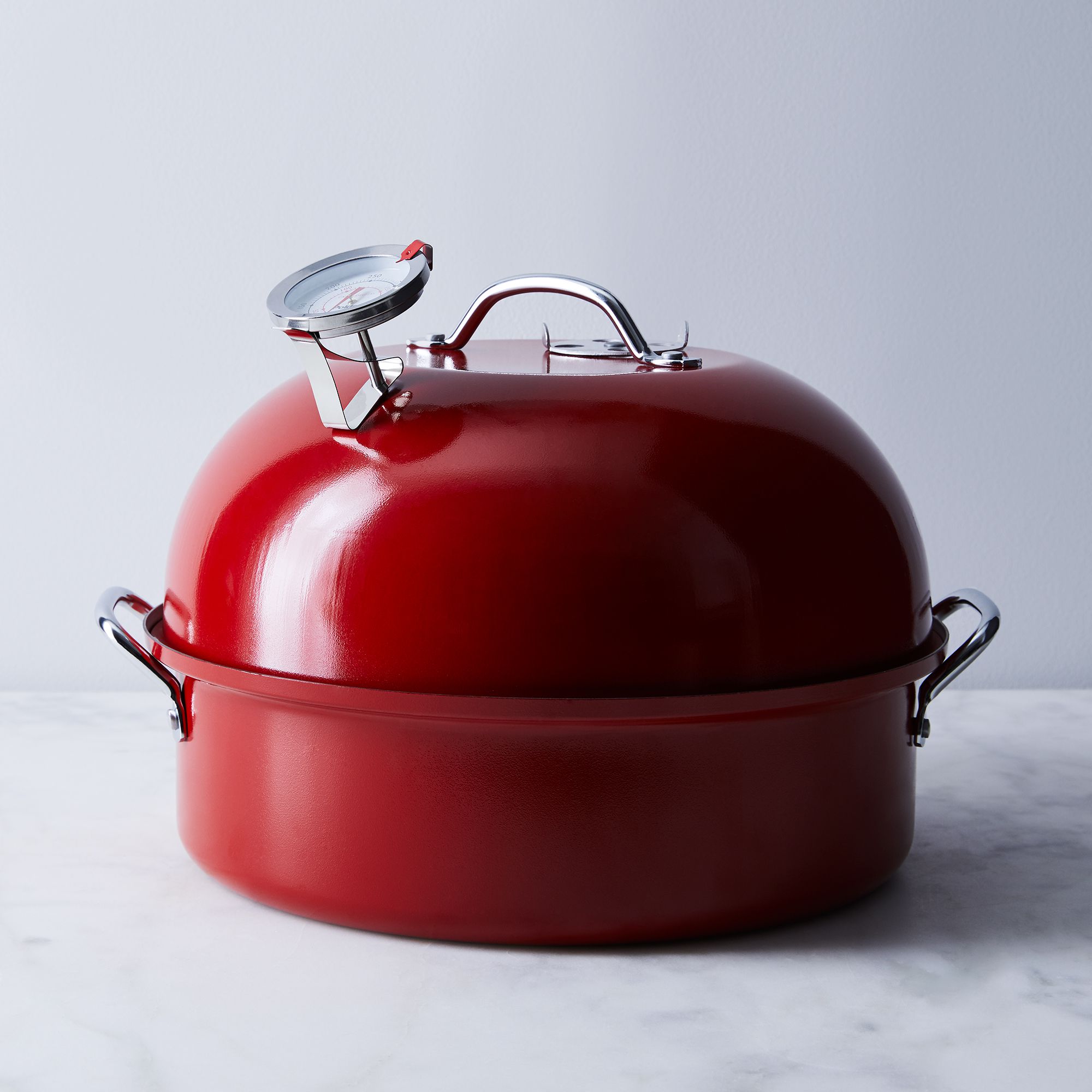 This chic kettle smoker is a versatile tool that shatters the myth that food smoking is only for the warm weather. This compact yet high-capacity smoker allows you to enjoy smoking your favorite foods at any time of the year, indoors or outdoors. Its high dome design accommodates a generous amount of food, and its sleek look adds a touch of style to your kitchen.
Key Features:
Versatile: Suitable for indoor and outdoor use
High dome design: Allows for smoking a large quantity of food
Compact: Easy to store and aesthetically pleasing
Comprehensive guide: Comes with a full instructional video and booklet
Pros:
Year-round use: Enables smoking food in any season
High capacity: Can accommodate a large amount of food despite its compact size
User-friendly: Comes with detailed instructions for easy use
Cons:
Requires careful handling: The smoker becomes very hot during use
Specific care instructions: Not dishwasher-safe, requires hand washing, and specific utensils to avoid damaging the nonstick coating
Ventilation needed: Requires good ventilation when used indoors
Price range: $100 -$125
---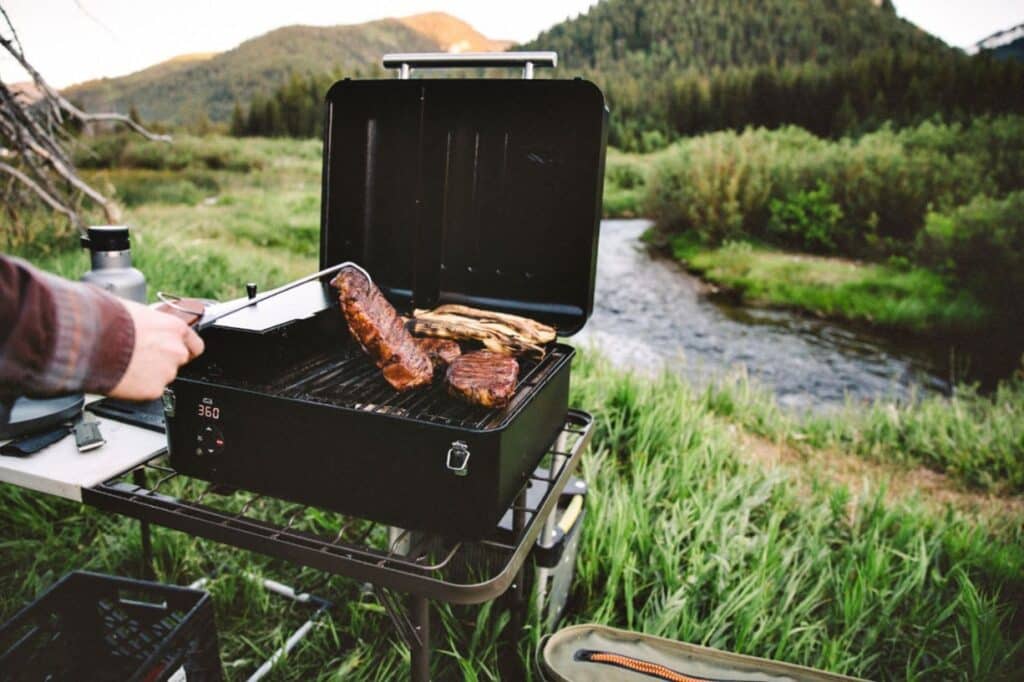 The Traeger Grills Ranger Grill is a fantastic little smoker. Its compact size doesn't compromise on grilling space, and the temperature control is simple and efficient. The downside is that it requires electricity, which isn't always available in outdoor locations.
Key Features:
184 square inch grilling area
8-pound hopper capacity
Fuel type: Wood Pellets
Pros:
Compact size
Ample grilling space
Easy-to-use temperature controls.
Cons:
Requires electricity
Pellets can be pricey
Price range: $400-$500
---
The MAISON HUIS Portable Charcoal Smoker is an excellent choice for small, intimate cookouts. Its compact design makes it easy to take anywhere, and the foldable feature is a great space-saver. However, it's not the best option for larger groups, and you'll need to bring charcoal.
Key Features:
Stainless Steel BBQ grill
Suitable for 2-3 people
Fuel type: Charcoal
Pros:
Compact and foldable design
Great for small gatherings
Very affordable
Cons:
Not ideal for larger groups
Requires charcoal.
Price range: $60-$100
---
The Cuisinart COS-116 Vertical Charcoal Smoker is a great option for those who want more cooking space without compromising on portability. It's easy to set up and maintains temperature very well. The only downsides are that you'll need to supply charcoal, and it's on the heavier side.
Key Features:
Two 16″ stainless steel racks
Porcelain enamel water bowl
Vertically hinged door
Fuel type: Charcoal
Pros:
Ample cooking space
Maintains temperature well
Easy to use.
Cons:
Requires charcoal
A bit heavy.
Price range: $100-$150
---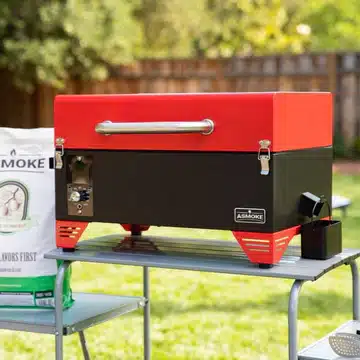 The ASMOKE Portable Wood Pellet Grill and Smoker offers a wonderful, unique flavor. The grilling area is ample, and the digital temperature control ensures your food is cooked perfectly every time. The downsides are the need for an electrical source and the cost of pellets over time.
Key Features:
256 Sq. in. grilling area
Digital temperature control
Fuel type: Wood Pellets
Pros:
Ample cooking space
Precise temperature control
Cons:
Requires electricity
Pellets can be a bit expensive.
Price range: $200-$300
---
Buyer's Guide – Tips for Choosing Your Mini Smoker
Let's cover a few key things you should consider when choosing a mini smoker. I hope these pointers will ensure you find a smoker that not only meets your expectations but exceeds them!
Budget: Before anything else, determine your budget. It's easy to get swept up in the features and designs of different smokers, but it's crucial to know what you can afford. The good news is, there's a broad range of options available, so you're likely to find something that suits your pocket and your requirements.
Fuel Type: Different smokers use different types of fuel. Some use charcoal, others wood chips, and some use pellets. Consider what's readily available in your area, as well as what kind of flavors you prefer. Remember, the type of fuel you use can significantly influence the taste of your food.
Construction and Durability: Ensure your smoker is made from durable, high-quality materials. It should be able to stand the test of time (and many smoking sessions!). Look for features like double-walled construction and high-grade steel, which help with heat retention and longevity.
Heat Control: Choose a smoker that allows you to easily control the heat. Adjustable vents or dampers are a must for maintaining the temperature.
Portability: Consider how portable the smoker is. Is it lightweight enough to carry? Does it come with handles or wheels? And importantly, does it fit in your vehicle? The last thing you want is a 'portable' smoker that isn't so portable after all!
Use and Maintenance Tips:
A mini portable smoker can bring you years of delicious smoked meals if you take care of it properly. Here are some useful tips to keep your smoker in the best shape:
Regular Cleaning: Be sure to clean your smoker after each use. Leftover ash and grease can build up over time and affect the taste of your food. Use a grill brush to scrub off any residue and a damp cloth to wipe it down.
Proper Storage: When not in use, store your smoker in a dry, protected place. If you leave it outside, invest in a cover to protect it from the elements.
Periodic Checks: Regularly check your smoker for any signs of damage or wear and tear. Look out for rust, loose screws, or deteriorating seals.
Proper Use of Fuel: Follow the manufacturer's instructions when it comes to fuel. Overloading can cause damage and may even be a safety hazard.
Practice Makes Perfect: Remember that smoking is an art. Don't be disheartened if your first few attempts don't turn out as expected. Experiment with different heat levels, types of wood and cooking times. Over time, you'll develop a feel for it and before you know it, you'll be smoking like a pro!
Owning a portable smoker isn't just about convenience – it's about opening a new chapter in your food adventure, a chapter filled with delicious, smoky, and unforgettable moments. Throughout this guide, I've covered the many factors you should consider when selecting a smoker such as portability, size, fuel type and construction material. Each aspect plays a crucial role in finding the right match for you. From sharing the best mini portable smokers to giving you the lowdown on what to look for and how to care for your new culinary companion, my aim has been to arm you with the knowledge you need to make an informed decision.
Remember, the key to finding the best portable smokers lies in understanding your own needs and preferences. Each smoker has its own strengths and charm, and the right one for you is the one that fits seamlessly into your lifestyle and your culinary ambitions.
With that said, I'd love to hear your thoughts, experiences, and questions. Have you tried any of these smokers before? Do you have any delicious smoked recipes to share? Or maybe you're still deciding and have some questions?
Don't be shy, drop your comments below and let's get the conversation started. So, let's share, engage, and learn together – I can't wait to hear your stories!
Check out my post about the best gas grills under $200.