Hey guys! I've been wanting to share my experience with Butcher Box for a while now. We've been a loyal customer for well over a year and ready to give my honest Butcher Box review. You know that meat delivery service that's been making waves? Before we get into the nitty-gritty, I want to make it clear that this isn't a sponsored post. I'm just a regular ol' food lover, sharing my honest-to-goodness experience as a paying customer turned Butcher Box affiliate partner.
Table of Contents
What is Butcher Box?
Alright, let's start with the basics for those of you who might not have crossed paths with Butcher Box yet. Butcher Box is a meat delivery service that brings high-quality, sustainably sourced, and ethically raised meats directly to your doorstep, no grocery store hassle required. 
It offers a convenient and hassle-free way to access top-notch cuts of meat. Butcher Box aims to cater to a wide range of tastes and preferences with curated boxes filled with a variety of cuts, including grass-fed beef, organic chicken, heritage-breed pork, and wild-caught seafood.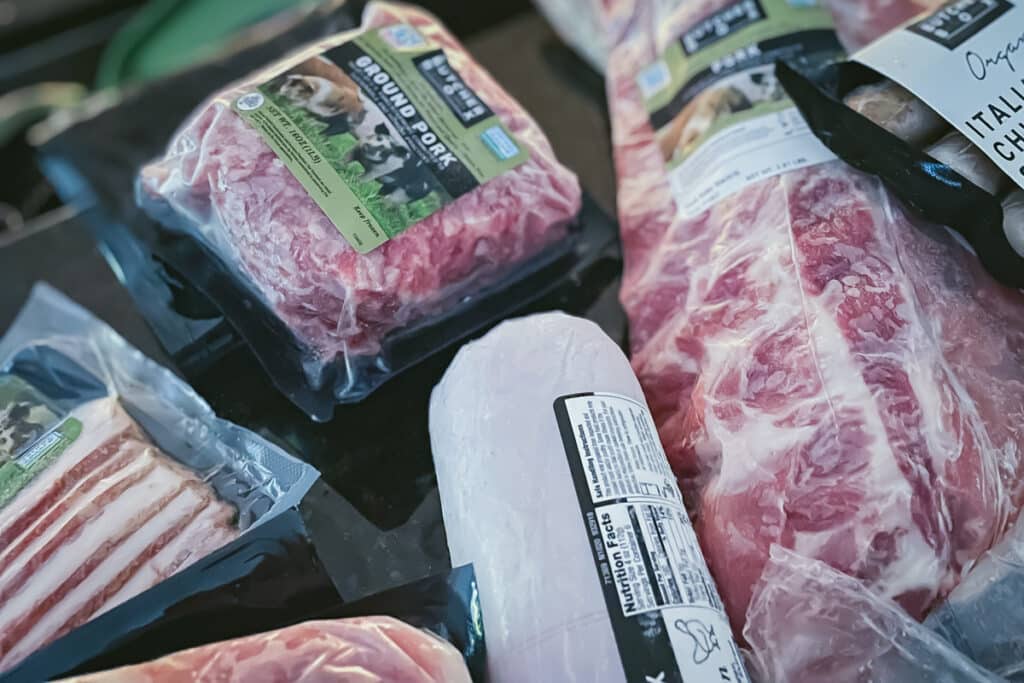 How Does Butcher Box Work?
It's pretty simple. You pick your preferred plan and box size – they've got options to suit all appetites. Then, like clockwork, your curated box of cuts arrives at your door. And don't worry about that meat staying frosty; they pack it all up with dry ice to make sure everything's as fresh as can be.
How Does Butcher Box Work?
Choose Your Plan: Select a plan that suits your appetite and preferences. Butcher Box offers various options to cater to different needs.
Pick Your Box Size: Decide on the size of your box based on your meat consumption and family size.
Curated Selection: Butcher Box creates a curated selection of high-quality meats, including grass-fed beef, organic chicken, and more. You can also choose the custom option.
Scheduled Deliveries: Your chosen box of meats will be delivered to your doorstep on a regular schedule that fits your lifestyle.
Frozen and Fresh: The meat is carefully packed with dry ice to ensure it remains frozen and fresh during transit.
Cook and Enjoy: Once your box arrives, you can explore a range of cooking possibilities with your premium cuts of meat like these recipes!
Butcher Box Promotions and Deals
And here's a little extra sizzle – keep an eye out for promotions and deals that might be sizzling away. It's always nice to catch a great deal on some seriously great meat. Here's the current deal.
Get Free Salmon for Three Months with Butcher Box!
This special offer is available for new members only. The search for high-quality meat ends here. Amazing taste. Humanely raised. Delivered to your door. Sign up today and get 2 lbs of wild-caught Alaskan Salmon FREE in every box for the first 3 months of your membership.
Butcher Box Prices and Plans
Alright, let's talk turkey – or in this case, meat. The cost varies based on the plan you choose, and they've got different sizes as well. It's a bit like getting a tailored suit, but for your meat-loving side.
Let's break down the Butcher Box options:
Step 1: Choose Your Plan
Custom Plan: Tailor your Butcher Box to your preferences. Handpick specific cuts from various meats, including seafood. They offer two box sizes, both loaded with 20% more meat than the Curated Plan.
Curated Plan: If you prefer convenience, go for the Curated Plan. Pick the types of meat you want, and Butcher Box will select the cuts for you in standard pack sizes. Again, there are two box sizes available.
Step 2: Choose Your Box Size
Classic Box: Priced at $146, this is ideal for individuals and small families. You'll receive 8-11 lbs of high-quality meat in your box.
Big Box: For $269 (or $306 for the custom plan version), the Big Box is great for mid-size families and those with ample freezer space. It contains 16-22 lbs of top-notch meat.
Step 3: Choose Delivery Frequency
Select how often you want your Butcher Box delivered: every 4 weeks, 6 weeks, or 8 weeks. It's all about fitting your schedule and how much meat you and your family consumes.
Step 4: Select Your Cuts
Butcher Box has a wide selection of meats for you to choose from, including beef, chicken, pork, seafood and more. My favorite cuts are the chuck roast, pork shoulder, pork loin and salmon fillets. They also have precooked and pre-seasoned options such as meatloaf, chicken sausage and chicken nuggets. Keep in mind, selections vary depending on what they have available.
Step 5: Add-Ons and Checkout
If you're looking for a little extra, explore the add-ons available. And the best part? Delivery is on the house—no extra charge for getting extras.
The choice is yours, customized or curated, and delivered at a frequency that suits your lifestyle.
Unboxing My Butcher Box
When Butcher Box arrives at my doorstep, I can't help but feel like a kid on Christmas morning. Seriously, it's that exciting. There's something about the anticipation of unboxing a treasure trove of high-quality meat that gets my heart racing. And speaking of unboxing, they've got the packaging down to an art form. Dry ice nestled between the cuts of meat, ensuring that everything arrives just as fresh as if I'd picked it up from a local farmers market. We once left it out for over 4 hours in the heat! We didn't realize it had arrived and upon boxing everything was still completely frozen. We couldn't believe it!
Alright, let's dive into the juicy details of what was hiding within that box. I'm talking grass-fed beef, ground chicken and pork chops that had "weeknight dinner" written all over them, and even heritage breed ground pork that made my inner food historian do a happy dance. I also received cod fillets which I used to make a version of my fish and polenta.
But what really caught my eye were the little extras – the special touches that set Butcher Box apart. The uncured applewood bacon was a free gift that I receive in each box. Yep, free! I also got baby back ribs, cooked chicken sausage and a few more goodies.
Shipping and Delivery Frequency
With Butcher Box, you're not just signing up for great meat – you're also signing up for peace of mind. You get to decide how often your box arrives. Whether you're grilling up a storm every week or simply looking to stock up for special occasions, they've got a delivery frequency that suits your lifestyle. As mentioned earlier, they offer free shipping with delivery frequencies of four, six and eight weeks. Delivery is free and you can cancel at any time.
Quality of the Meat
I can't stress enough how much importance I place on sourcing. Butcher Box takes it to the next level, offering 100% grass-fed, grass-finished beef, free-range organic chicken, pork raised crate-free and wild-caught seafood. I put their cuts to the test, experimenting with a variety of cooking methods to see if they held up to my high standards.
The verdict? They did not disappoint. Whether I was whipping up mojo pork with their succulent pork shoulder, indulging in gochujang ribs with their baby back ribs, or creating a comforting chili using their wagyu beef, the quality of the meat shone through in every dish. And let's not forget those chicken and waffles made with their juicy chicken breasts –yum!!!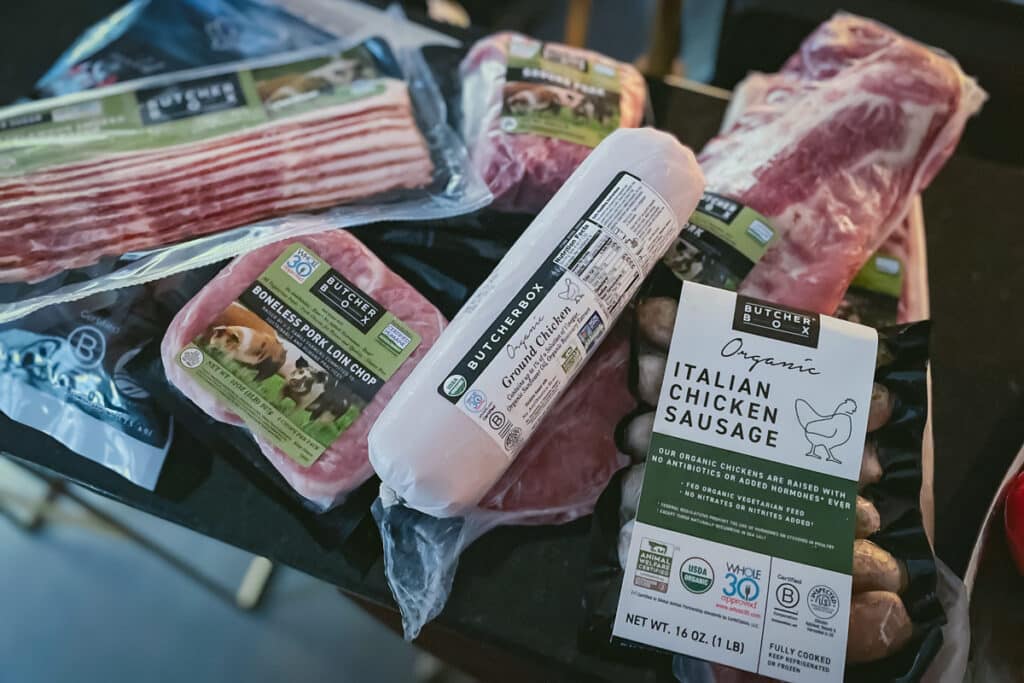 Comparing Butcher Box to Local Grocery Stores
So how does Butcher Box measure up against the local grocery store?
Selection: Butcher Box wins hands down when it comes to variety. Their curated boxes include a range of cuts that you might not even find at your local market.
Pricing: Sure, the cost might seem a tad higher compared to the conventional meat section at your grocery store. But remember, you're not just getting any old meat – you're getting high-quality, sustainably sourced cuts that are often hard to come by.
Quality: Here's where it gets juicy. The taste, tenderness, and flavor of Butcher Box's offerings are leagues above what you'd typically find at your local big box store. It's a premium meat experience that's worth considering.
Comparison Chart
| Comparison Aspect | Butcher Box | Local Grocery Stores |
| --- | --- | --- |
| Selection | Offers a wide variety of cuts in curated boxes, including unique options. | Limited selection with standard cuts available. |
| Pricing | Slightly higher cost, justified by high-quality and sustainably sourced meat. | Lower prices, but may compromise on quality and sourcing. |
| Quality | Provides premium, flavorful, and tender meats due to sourcing standards. | May offer a lower quality and less flavorful meat selection. |
| Sourcing | Emphasizes sustainable and ethical sourcing practices for its meat. | Sourcing practices can vary, and transparency might be lacking. |
| Convenience | Convenient home delivery, eliminates the need for in-store shopping. | Requires a visit to the store and potential waiting in line. |
| Customization | Offers flexibility to customize box contents and cuts. | Limited customization options for cuts and variety. |
| Variety | Provides options like 100% grass-fed beef and wild-caught seafood. | Selection might be limited to conventional cuts and types. |
| Packaging | Carefully packaged with dry ice to maintain freshness during delivery. | Packaging might not be optimized for freshness over time. |
| Support | Responsive customer service for inquiries and changes to orders. | Customer service quality can vary across different stores. |
Sustainable and Ethical Sourcing
Butcher Box claims to be all about it, so I took a deep dive. I combed through their sourcing information and partnerships with farms, and here's what I found: they're making an effort to connect you with meat that's sourced responsibly. They're striving to ensure that their grass-fed beef is just that – from cows that have roamed open pastures, feasting on the good stuff nature provides. Their commitment to heritage-breed pork and wild-caught seafood also caught my attention.
FAQs About Butcher Box
Is Butcher Box a Subscription Service Only?
Yes, Butcher Box operates on a subscription model. You can choose from various plans and customize your orders.
Can I Choose the Cuts in My Box?
While Butcher Box offers curated boxes, you do have the flexibility to customize your box to some extent by swapping out cuts.
What If I Don't Consume Meat Often?
Butcher Box offers different delivery frequencies, so you can choose what works best for your consumption habits.
Are There Options for People with Dietary Restrictions?
Butcher Box has options like chicken and seafood for those who prefer other protein sources or have specific dietary needs.
Do They Offer Organic Meat?
Yes, they offer organic chicken, and their focus is on providing high-quality, responsibly sourced meat.
What Sets Butcher Box Apart from Local Grocery Stores?
Butcher Box offers the convenience of home delivery, curated selections and a commitment to sustainable sourcing that might not be as consistent at local stores.
Can I Pause or Cancel My Subscription?
Yes, you can pause or cancel your subscription at any time, making it a flexible option.
How Do They Ensure Meat Stays Fresh During Delivery?
Butcher Box uses dry ice and insulated packaging to maintain the temperature and quality of the meat during transit.
Is Butcher Box Available Nationwide?
Yes, Butcher Box delivers to most parts of the contiguous United States.
Are There Exclusive Member Deals?
Yes, Butcher Box occasionally offers member-exclusive deals and promotions, adding extra value to your subscription.
Final Verdict: Is Butcher Box Worth It?
We've journeyed through the meaty landscape of Butcher Box, and now it's time to weigh the pros and cons. So, let's break it down:
Pros:
Quality Reigns Supreme: You're getting top-notch, high-quality cuts that stand out in flavor and tenderness.
Convenience Redefined: Say goodbye to crowded grocery stores and hello to doorstep deliveries that fit your schedule.
Curated Selection: Their curated boxes offer variety and introduce you to cuts you might not find elsewhere.
Sustainable Sourcing: Their claims about ethical and sustainable sourcing hold water with farms and practices to back them up.
Flexibility: The option to customize your box and the freedom to adjust delivery frequency make it a personalized experience.
Customer Service: Their support team is on the ball, ready to answer questions and help you navigate your meaty adventure.
Cons:
Cost Consideration: While the quality is undoubtedly worth it, the price might be a bit steep for some budgets.
Limited Local Control: If you're someone who loves hand-picking each cut, the curated aspect might not align with your preferences.
Leaking: I noticed that once the meat has thawed it tends to drip out of the packaging so I have to be extra careful about cross-contamination.
Who Might Benefit:
Butcher Box isn't just for any old carnivore. If you value quality, convenience and sustainable practices, this service is a winner. It's perfect for those who:
Want access to high-quality, responsibly sourced meats without the grocery store hassle.
Seek convenience in cooking, with portioned cuts that streamline meal prep.
Are curious about trying new cuts and exploring the world of heritage breed meats.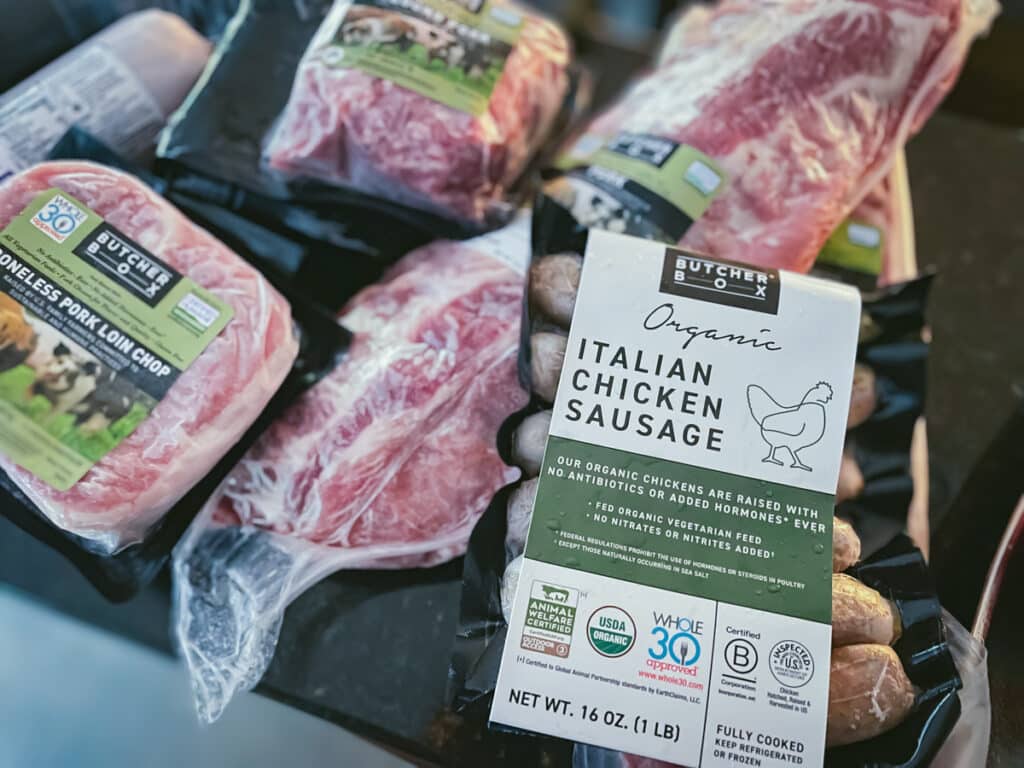 My adventure with Butcher Box has been an eye-opener, a flavor-filled experience that has exceeded my expectations. I'm so glad to have found this service. Have you tried Butcher Box? What was your experience like? Share your thoughts in the comments below. And get cooking!