One of my favorite ways to entertain is with a grazing platter. This Mediterranean charcuterie board is a delightful assortment of dips, cheeses, meats and so much more. This is my take on a Mediterranean grazing board, and trust me, it's the easiest and most delicious spread you'll ever make! Plus, it's really pretty!
Table of Contents
Why Love This Charcuterie Board
There's something aesthetically pleasing about a well-laid-out charcuterie board. The vibrant colors, the medley of flavors and the sheer variety make it a feast for both the eyes and the palate. And the Mediterranean twist brings in a fresh, wholesome and aromatic vibe that's hard to resist.
Mezze Platter vs. Charcuterie Board: What's the Difference?
A mezze platter is a collection of small dishes, often served in the Mediterranean and Middle Eastern regions. Think of it as an assortment of appetizers or tapas, ranging from dips like hummus to stuffed grape leaves. The term 'mezze' has its roots in various languages. In Turkish, it's 'meze', which means 'taste' or 'snack'. But it also borrows from the Persian word 'mazze' and the Arabic 'mazza'. Mezze can be served as the main course or as an appetizer.
A charcuterie board is a curated presentation of cured meats, cheeses, and various accompaniments. The term "charcuterie" is French and refers to the art of preparing and assembling cured meats and other meat products. Over time, the concept of a charcuterie board has expanded to include a variety of other ingredients such as fruits, nuts, breads, and spreads.
This Greek platter is inspired by a combination of aspects from both types of boards.
​So what goes on a board!?
The beauty of a mezze platter is its diversity and adaptability. Depending on the region or personal preferences, the components can vary. It encourages communal dining, conversation, and a leisurely pace of eating, making it a central feature of social gatherings and celebrations in many cultures. Here are some ideas to get you started. See the recipe card below for the exact ingredients I used to build my board.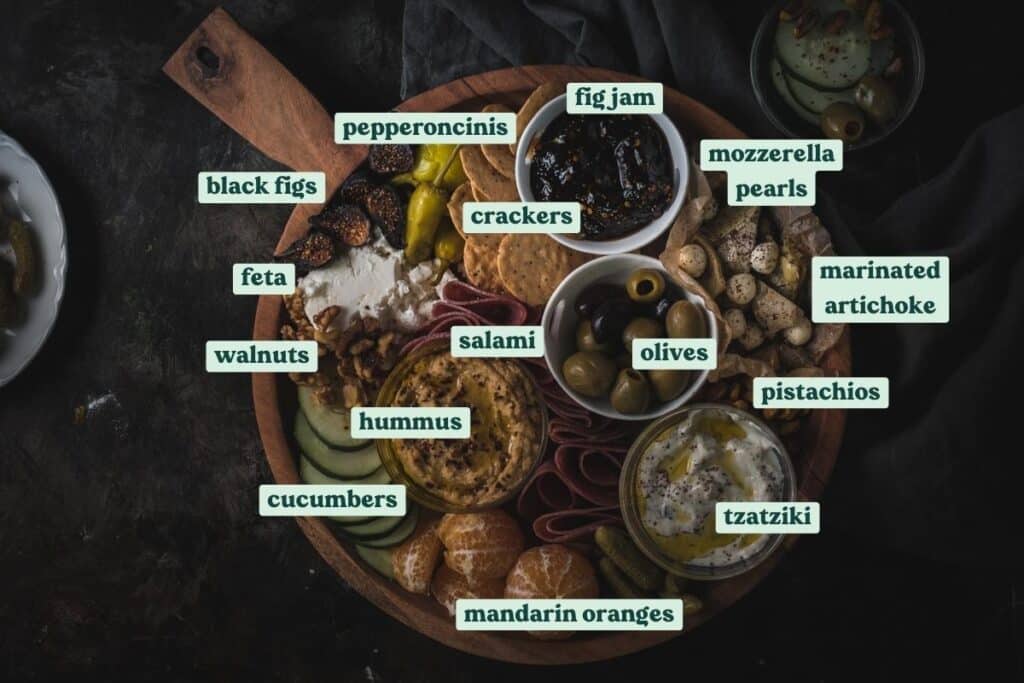 Cheese, Glorious Cheese!
Let's start with the heart of any charcuterie board: the cheeses. On my Mediterranean cheese board, I've got some classic feta cheese, which I think is a must-have. I also added fresh mozzarella pearls, which I've given a little twist by topping with sumac.
Other great additions would be goat cheese, parmesan, asiago, baked brie and halloumi cheese.
Dips & Spreads
No Mediterranean mezze platter is complete without an assortment of dips. My favorite dips include hummus, which I've elevated by drizzling with olive oil and sprinkling some aleppo pepper. Then there's the creamy tzatziki, which I've topped with olive oil and sumac. If you're looking to take things to the next level, fig jam, baba ganoush and olive tapenade are yummy additions.
Breads, Crackers & More
To scoop up those savory snacks, I've added multigrain crackers. I also served with toasted sourdough bread but there was no room on my board which is why it's not pictured! Warm pita bread and pita chips are also great to have featured on your board. It's one of the easiest ways to stay true to the Mediterranean theme.
Olives, Pickles & All Things Briny
I've added kalamata olives and green olives, which add a delightful briny touch. And let's not forget about marinated artichoke hearts and gherkin pickles for that extra punch! Other ideas include pickled onions, marinated cucumbers, capers and sun dried tomatoes. The only reason I chose not to include sun dried tomatoes is that I wanted my board to have a muted color palette, otherwise, tomatoes are a must-have!
Meats, Veggies & Fruits
While traditional charcuterie boards often focus on cured meats like salami, a Mediterranean mezze board brings in fresh vegetables and fruits. I've added sliced cucumbers topped with sumac, which pairs beautifully with the cheeses and dips. Figs and mandarin oranges add a sweet touch, balancing out the savory elements. And if you're looking for more, cherry tomatoes and red peppers are a great way to add color and freshness. I also added salami but this is totally optional if you want a vegetarian board.
Other meat and seafood options are anchovies, salmon and meatballs. Try adding other fruits like dates, grapes, pomegranate seeds, and melon slices. And additional veggies could be tomatoes, bell peppers, radishes and carrot sticks.
Nuts, Seeds & Little Extras
Roasted walnuts and pistachios give a crunchy texture to the board. Drizzling olive oil over the board and adding a small bowl of it for dipping is a simple way to add extra flavor. And if you're feeling fancy, grape leaves stuffed with rice are a delicious addition. Play around with other nuts and seeds such as almonds, sesame seeds, cashews, pine nuts and sunflower seeds.
Building the Perfect Board
There's no wrong way to assemble your Mediterranean mezze platter, but here are some basic steps:
Start with a large wooden board that is food safe. Think of this as your canvas for your delicious spread.
Place dips in small dishes across the board.
Arrange cheeses.
Add meats, veggies, and fruits.
Fill in gaps with nuts, seeds and smaller items like olives.
Drizzle with olive oil and sprinkle with fresh herbs for the finishing touch.
Tips for Designing an Attractive Charcuterie Board
Color Coordination: A visually appealing board has a mix of colors. Think reds from cherry tomatoes, greens from olives, and whites from cheeses. I went for a muted palette which includes creams, whites, soft greens and pinks.
Texture Play: Combine soft cheeses with crunchy crackers, creamy dips with crisp veggies.
Height Variation: Use bowls for dips and stack some ingredients to give depth and dimension to your board.
Fresh Herbs: Sprinkle fresh herbs like rosemary or basil for an aromatic touch and a pop of green.
Flow: Ensure there's a flow to your board. Place cheeses and meats closer together, while spacing out dips and breads.
Storing Leftovers
Had too much on your board? No worries! Here's how to store:
Cheeses: Wrap in wax paper and then in a plastic wrap. Store in the coolest part of your fridge.
Meats: Store in airtight containers in the fridge.
Dips: Keep in their bowls, cover with plastic wrap ensuring it touches the surface of the dip to avoid a skin forming.
Veggies & Fruits: Store in airtight containers in the fridge.
Note: Discard any ingredients that have been sitting out for too long. If you feel uncomfortable eating it the next day, then get rid of it!
Creating an easy Mediterranean charcuterie board is one of the best ways to experience the variety of flavors and textures of Mediterranean cuisine. Whether it's for a light meal, an appetizer platter, or the main meal, this board is so much fun to craft! Enjoy mixing and matching different flavors, try different types of cheeses, and most importantly, enjoy the process.
Mediterranean Mezze Platter – Greek Charcuterie Board
This Mediterranean charcuterie board is a delightful assortment of dips, cheeses, meats and so much more. This is my take on a Mediterranean grazing board, and trust me, it's the easiest and most delicious spread you'll ever make!
Ingredients
Cheeses:
Feta cheese

Fresh Mozzarella Pearls
Olives & Pickles:
Kalamata olives

Green olives

Gherkin pickles

Pepperoncinis
Veggies:
Marinated artichoke hearts

Cucumbers

,

sliced
Nuts:
Roasted Walnuts

Pistachios
Fruits:
Figs

,

halved

Mandarin Oranges

,

peeled
Extras:
Olive oil

Sumac

Aleppo Pepper
Instructions
Begin with a spacious wooden board, setting the stage for your Mediterranean showcase.

Dips & Jam: Start by placing small bowls of hummus, tzatziki, and fig jam on the board, ensuring they're spaced out for visual appeal.

Cheese & Artichokes Pairing: On a piece of parchment paper, arrange fresh mozzarella pearls with marinated artichoke hearts then add to the board. I crumple up the parchment paper before using to give it a rustic look.

Crackers: Distribute multigrain crackers around the board.

Add Olives: Combine kalamata and green olives in a small ramekin, and nestle it in a prime spot on the board.

Salami: Fold each slice of salami into quarters, creating a fan-like shape. Strategically place these around the board.

Veggies: Scatter sliced cucumbers, gherkin pickles and pepperoncinis around the board.

Nuts: In extra pockets add roasted walnuts and pistachios.

Fruity Accents: Dot the board with fresh figs and mandarin oranges.

Garnishes: Once your board is assembled, drizzle olive oil over the hummus and tzatziki, adding that glossy finish and enhancing their flavors. I also seasoned with aleppo pepper and sumac for extra flavor and color.