A taco bar party is a fun and interactive way to bring people together over delicious food. It involves setting up a with all the ingredients necessary to create personalized tacos, allowing guests to assemble their own tacos to their liking. Taco bars are a great option for a casual get-together, a family dinner, or even a birthday party.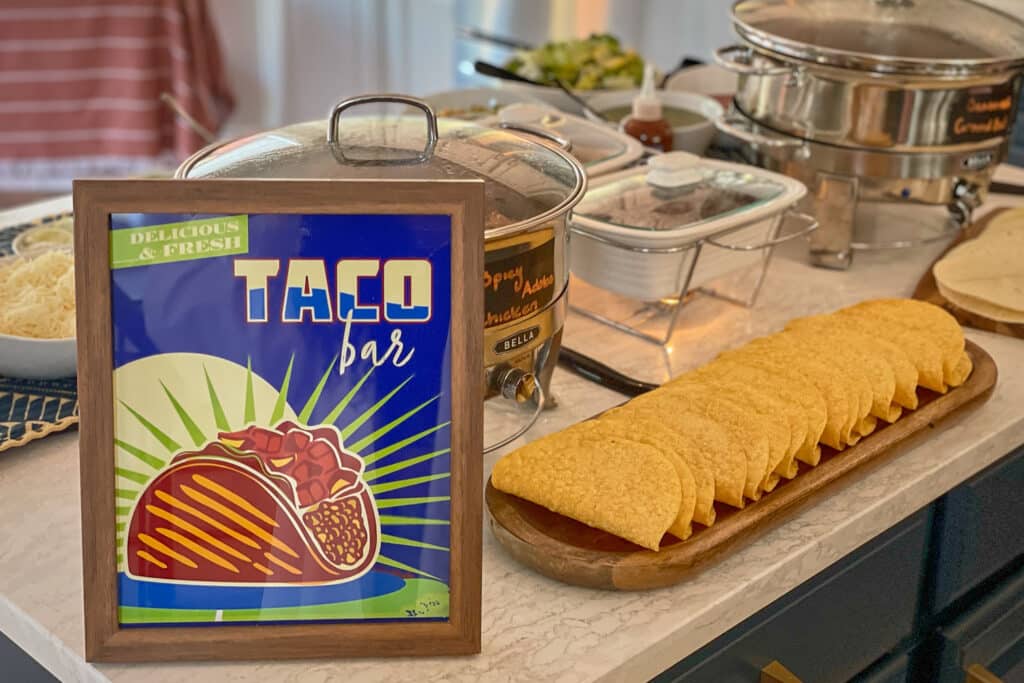 This ia a comprehensive guide to hosting an ultimate taco bar party. It will cover everything from planning and prep to hosting and clean up. You'll learn how to choose the perfect location for your party, how to create a budget, tips for selecting the right fillings and toppings, and how to set up your bar. We'll also discuss suggestions for drinks and side dishes that will complement your taco bar. You'll have all the tools necessary to host a memorable and fun taco bar party for your friends and family. And don't forget to check out our ultimate guide to hosting a burger bar party!
Table of Contents
Why Host a Taco Bar Party
Hosting a build your own taco bar party is an easy way to impress your guests with your hosting skills without having to spend hours in the kitchen. It also allows your guests to customize their tacos to their own preferences, accommodating dietary restrictions and taste preferences. Additionally, taco bars are budget-friendly, making them a perfect option for those on a tight budget. Lastly, these types of food bars are incredibly versatile and can be set up for any occasion, whether it's for a Cinco De Mayo party, a game day party, or a casual dinner with friends and family.
1. Planning Your Taco Bar Party
Before you start prepping taco fillings, toppings and side items, you'll need to plan the logistics of your build your own taco bar party.
Choose Date, Time & Location
When planning your taco bar party, try choosing a date and time that works for the majority of your guests and also fits your schedule. Weekend afternoons and evenings are always popular choices for gatherings. As for the location, you can host the party in your backyard, patio, or even a public park or beach.
Location Ideas
Your home: Hosting the party at your home is a convenient option, especially if you have a spacious backyard or patio area. This will allow you to set up the taco bar and provide seating for your guests.
Community Centers: Many community centers have party rooms or outdoor spaces available to rent for events. This can be a great option if you need more space or want to avoid using your own home.
Public Parks: If the weather is nice, hosting your taco bar party in a public park can be a fun and unique option. You can reserve a picnic area, set up some tables and chairs, and enjoy the beautiful surroundings.
Beaches: If you're lucky enough to live near a beach, consider hosting your taco bar party there. You can set up a beach picnic area, complete with blankets, beach chairs, and umbrellas, and enjoy the sun and sand.
Invite Your Guests
After selecting a date for your taco bar party, the next step is to send out invitations to your guests. You can send out digital invitations or create a Facebook event to keep everyone informed. When inviting your guests, it's a good idea to ask them to RSVP with any dietary restrictions or preferences they may have. This will allow you to accommodate everyone's needs and plan the quantities of ingredients accordingly. By doing this, you can ensure that everyone has a great time and enjoys the food without any concerns.
Invitation Ideas
Paper Invitations: Traditional Paper invitations by snail mail or hand-delivery can be a nostalgic way to invite your guests. This will add a personal touch and make the invitation feel more special. You can find pre-made invitation cards at a party supply store or create your own using design software.
Email Invitations: Sending invitations via email is the most popular option. There are a ton of free online invitation tools that allow you to design and send invitations. Our favorite options include Evite and Paperless Post.
Social Media: If most of your guests are active on social media then creating a Facebook event or using other social media platforms like Instagram or Twitter to invite your guests is a great option.
Word of Mouth: Inviting your guests in person, via text message, or over the phone can be a great way to spread the word. This method will help you gauge your guests' interest in attending when you speak with them. By reaching out to your guests individually, you can have a more direct conversation with them and ensure that they feel welcomed and excited to attend your taco bar party.
Create a Budget
When it comes to planning a taco bar party (or any party, for that matter), it's easy to get carried away with all the different ideas and options available. To avoid overspending, it's important to set a budget and stick to it. Be sure to consider the cost of ingredients, drinks, and supplies, as well as any rentals or decorations you may want to add to the atmosphere. Here are a few budgeting templates to help you stay on target.
Choose a Theme
While this is totally optional, adding a theme to your burger bar party can make it more festive and memorable.
Theme Inspiration
Taco Tuesday Fiesta: This theme can be perfect for a mid-week gathering with friends. Decorate your space with vibrant colors and play some Mexican music to add to the ambiance.
Cinco de Mayo Celebration: A Cinco de Mayo celebration can be a great theme option if your party is around May 5th. To show respect and appreciation for Mexican culture, consider using traditional Mexican decorations like papel picado, sombreros, and maracas, but keep the decorations classy and appropriate for the occasion. By incorporating these cultural elements into your party, you can create a festive and authentic atmosphere that honors the significance of the holiday.
Margarita Madness: This theme is perfect for an adult-only taco bar party. You can set up a margarita bar with different flavors and offer a variety of tequilas and mixers.
DIY Taco Craft Party: This theme is perfect for kids and can be a fun activity for them. Set up a taco bar with different types of shells and toppings, and provide crafting materials like felt and glue to make taco-themed crafts.

Set Up the Space
Before the party, make sure the hosting area is clean and spacious enough to accommodate your guests. Set up tables and chairs for seating, and designate an area for preparing the tacos especially if cooking outside. You'll also need a designated space for the taco bar itself, where either you or your guests can assemble their tacos. If you decided not to have a theme, still consider adding decorations to create a fun atmosphere.
2. Creating the Taco Bar Menu
The taco bar ingredients are the centerpiece of your taco bar party. The great thing about this type of party is that it's easy to accommodate everyone's preferences. Even the pickiest of guests can find something they'll enjoy when they get to customize their own tacos.
Choose Your Meats & Proteins
There are numerous protein fillings to choose from when preparing a taco bar, such as beef, chicken, pork, fish, shrimp, and tofu for vegetarian and vegan guests. You can also mix and match various proteins to offer a variety of flavors and options. Ensure that you have enough protein fillings for all of your guests and consider having extra in case anyone wants seconds or thirds.
Seasoned Ground Beef: This is a classic taco meat filling made with ground beef, seasoned with a blend of spices. It's easy to prepare and a crowd favorite. Season with our homemade taco spice blend.
Seasoned Shredded Chicken: Slow-cook shredded chicken with a blend of Mexican spices like cumin, chili powder, and oregano. It's a lower fat alternative to ground beef and makes great tacos.
Pork Carnitas: This is a popular Mexican filling made from slow-cooked pork that is shredded and seasoned with spices like cumin, coriander, and garlic. It's savory, tender, and full of flavor. Try our shredded Mojo pork a.k.a. Lechon Asado.
Grilled Skirt Steak: Skirt steak is the cut of choice for fajitas but may be hard to source. Check out our best substitutes for skirt steak.
Sauteed Shrimp: Sautéed shrimp seasoned with garlic and chili make for a delicious and lighter taco filling. It's perfect for seafood lovers and pescatarians.
Cumin Lime Tilapia: Cumin lime tilapia is a flavorful and delicious protein option for a taco bar party. The combination of the tangy lime and aromatic cumin gives the fish a bright and refreshing taste that pairs perfectly with fresh toppings and a soft tortilla.
Roasted Vegetables: Roasted vegetables like peppers, onions, and squash are a tasty vegetarian option for taco fillings.
Seasoned Tofu: Tofu can also be seasoned with Mexican spices and grilled or sautéed as a vegetarian protein option.
Seasoned Black Beans: Another great alternative for vegetarians or those looking for a meatless option.
Select Your Toppings
The toppings are where your guests get creative and make their tacos to their liking.
Cheeses
Cheddar Cheese: Cheddar is a classic cheese that goes well with almost any taco filling. It has a sharp, tangy flavor and melts easily, making it a great option for topping tacos.
Cotija Cheese: Cotija is a crumbly Mexican cheese that has a salty, tangy flavor. It's commonly used in Mexican cuisine and goes well with spicy taco fillings.
Queso fresco: Queso fresco is a soft, mild cheese that crumbles easily. It's often used as a topping for tacos and other Mexican dishes, and has a slightly tangy flavor that complements spicy flavors.
Monterey Jack Cheese: Monterey Jack is a mild, creamy cheese that melts easily. It's a popular cheese for topping tacos and has a mellow flavor that won't overpower the other flavors in the taco.
Pepper Jack: Pepper Jack is a spicy version of Monterey Jack that is flavored with jalapeno peppers. It has a slightly spicy, tangy flavor and melts easily, making it a great option for topping tacos with a kick.
Vegan Cheese: Violife offers a range of vegan cheeses, including feta, cheddar, and mozzarella style shreds that can be used to top tacos.
Sauces & Condiments
Salsa Roja: Salsa is a classic topping for tacos and can be made with various ingredients and can be mild or spicy. You can serve this as a dip or a topping.
Guacamole: Guacamole is a creamy dip made from mashed avocados, lime juice and other seasonings.
Sour Cream: You can't have a taco bar party without sour cream! Sour cream is a tangy and creamy topping that adds a cooling effect to spicy tacos.
Hot Sauce: Hot sauce is a must-have for those who love a spicy kick. There are many varieties of hot sauce available, ranging from mild to extremely hot.
Queso: Queso is a melted cheese sauce that can be drizzled over tacos or used as a dip.
Pico de Gallo: Pico de Gallo is a fresh and chunky salsa made with diced tomatoes, onions, jalapeños, and cilantro.
Chipotle Sauce: Chipotle sauce is a smoky and spicy sauce made with chipotle peppers, adobo sauce, and mayonnaise. It's a great topping for chicken and steak tacos.
Cilantro Lime Cream Sauce: A great topping for fish tacos and shrimp tacos.
Mango Pineapple Habanero Sauce: We developed this recipe to pair with jerk chicken but it's really good with on tacos as well.
Mango Salsa: Mango salsa is a sweet and spicy salsa made with diced mango, red onion, jalapeño, and cilantro.
Baja Sauce: This creamy sauce is made with a combination of mayonnaise, sour cream, lime juice, and spices like cumin and chili powder.
Veggie Toppings
Corn Kernels: Grilled or roasted corn is a great addition to any taco, especially when you want to add a bit of sweetness and crunch. You can cut the kernels off the cob or serve it on the cob as a fun finger food option.
Diced Tomatoes: Fresh chopped tomatoes are a classic topping that add a juicy and refreshing element to your tacos. They can be diced, sliced, or even roasted for a slightly different flavor.
Diced Onions: Sautéed onions or raw diced onions are a versatile topping that add some texture and crunch to your tacos. You can use red onions, white onions, or even shallots depending on your preference.
Cilantro: This herb is a staple in Mexican cuisine and adds a bright and fresh flavor to your tacos. You can use it as a garnish or mix it in with your toppings.
Shredded Lettuce: Shredded lettuce or chopped greens can add some extra crunch and freshness to your tacos. You can use iceberg, romaine, or even mixed greens.
Jalapeños: For those who like a bit of spice, sliced or pickled jalapeños can add a nice kick to your tacos.
Lime wedges: Serving lime wedges on the side allows your guests to add some extra acidity and flavor to their tacos.
Avocado: Sliced or mashed avocado can add a creamy texture and a fresh, vibrant taste to your taco.
Radish: Thinly sliced radish can add a refreshing crunch and a slightly spicy flavor to your taco.
Pickled Vegetables: Pickled vegetables like carrots, jalapeños, and onions are a tangy and crunchy topping that can add a nice contrast to the other flavors in the taco.
Red Cabbage Slaw: Cabbage slaw is a great topping for tacos with grilled meats or fish, as well as vegetarian or vegan options, and can also be used as a side dish to complement the tacos.
Sauteed Bell Peppers: Bell peppers are a versatile and colorful addition to any taco. They add a satisfying crunch and a slightly sweet taste that balances out the savory and spicy flavors of other taco fillings.
Green Chillies: Green chilies are mildly spicy, with a smoky and slightly sweet taste. They can be used fresh or canned, and are often diced or sliced and sprinkled on top of the taco fillings.
Unique Topping Ideas
Pineapple Chunks: Sweet and juicy, pineapple chunks can add a tropical twist.
Fried Avocado: Coated in breadcrumbs and fried, sliced avocado can add a crispy and creamy texture to your tacos.
Kimchi: Korean fermented cabbage, known as kimchi, can add a spicy and tangy flavor.
Fried Jalapenos: Thinly sliced and breaded jalapenos, fried until crispy, can add a spicy and crunchy texture.
Choose Your Taco Shells
Hard Corn Shells: These are the classic taco shells that most people are familiar with. They are made from corn and are fried until they are crispy. They have a sturdy structure that holds up well to heavy fillings and can be filled and stacked before serving.
Soft Tortillas: Another popular taco shell. These soft shells are made from flour and are soft and pliable.
Soft Corn Tortillas: Made from corn, these shells have a slightly firmer texture than flour tortillas and a distinct corn flavor. They are ideal for filling with grilled or shredded meats, beans, and vegetables.
Lettuce Wraps: For a low-carb option, you can offer lettuce leaves as an alternative to taco shells. They provide a fresh, crunchy texture that complements the filling. They are also a great gluten-free option.
Warmed Pitas: Soft, fluffy pitas can be warmed and served as shells.
Fried Pitas: You can also make your own taco shells by frying pita bread until crispy and shaping them into taco shells while they're still warm. This adds a unique texture and flavor to your taco bar.
Taco Salad Bowls: These fun edible bowls can be filled with your favorite taco fillings for a fun and creative presentation. Make them yourself using soft tortilla shells and a tortilla bowl maker.
Don't Forget the Side Dishes!
While the "build your own" tacos themselves are the star of the show, there are plenty of delicious side dishes you can offer to complement them. Here are a few suggestions:
Side Dishes
Chips & Queso: Provide a variety of corn tortilla chips for your guests to scoop up a cheesy dip made from melted cheese, diced tomatoes, and green chilies.
Refried Beans: A classic Mexican side dish that's rich and creamy.
Rice: A simple side dish that's easy to make and pairs well with tacos.
Salad: A light and refreshing salad is a great side dish to offer. You can make a simple salad with lettuce, tomatoes, and onions or give our classic chopped salad a try.
Black Bean Salad: A protein-packed side dish that's easy to make. Combine black beans, corn, diced tomatoes, and cilantro in a bowl and dress with lime juice and olive oil or our lime vinaigrette.
Elote: Mexican-style grilled corn on the cob that's coated in mayonnaise, chili powder, and cotija cheese. Elote is a tasty and fun side dish that's perfect for a taco bar party.
Mexican Street Corn Salad: A twist on the classic grilled corn side dish. Cut the kernels off the cob and mix them with lime juice, cotija cheese, and chili powder for a tasty and easy-to-eat side dish.
Save Room For Dessert!
There are a ton of great desserts you can serve at your taco bar party. Here are just a few of our favorites.
Chocolate Chip Walnut Cookies: Our chocolate walnut cookie recipe is sure to be hit at your taco bar party or any part for that matter!
Churros: A classic Mexican dessert made with fried dough that is rolled in cinnamon sugar. Churros are crispy on the outside and soft on the inside, and are often served with chocolate sauce or dulce de leche for dipping.
Tres Leches Cake: A popular Mexican cake made with three types of milk (condensed milk, evaporated milk, and heavy cream) that is soaked into a sponge cake. Tres Leches Cake is rich, moist, and sweet, and is often topped with whipped cream and fresh fruit.
Sopapillas: A fluffy fried dough pastry that is sprinkled with cinnamon sugar and often served with honey or chocolate sauce for dipping. Sopapillas are light and airy, making them the perfect dessert to enjoy after a filling taco meal.
Mango Sorbet: Mango Sorbet is a perfect dessert option for those who want something light and fruity after a heavy meal.
Paletas: A type of Mexican popsicle made with fresh fruit, sugar, and water and free of dyes and artificial ingredients.
Fruit Salad: You can make a fruit salad with a variety of fresh fruits like strawberries, kiwi, and mango, and top it with a little lime juice and honey for extra flavor.
Select Your Beverages
Remember to provide a diverse selection of beverages to satisfy your guests' thirst. Consider offering non-alcoholic options such as water, soda, lemonade, or iced tea. If you prefer, you can also serve beer, wine, or cocktails, but ensure that you have enough drinks for everyone and provide non-alcoholic alternatives for guests who do not drink.
Beverages
Horchata: A sweet and creamy drink made with rice, milk, cinnamon, and sugar. Horchata is a popular Mexican drink that's perfect for balancing out the heat of spicy tacos.
Agua Fresca: A refreshing and fruity drink made with fresh fruit, water, and sugar. Popular flavors include watermelon, pineapple, and mango.
Mexican Coke: A popular Mexican soda that is made with real cane sugar instead of high fructose corn syrup. Mexican Coke has a unique and slightly sweeter taste than traditional Coca-Cola.
Lemonade: A classic and refreshing drink that pairs well with spicy food. You can make your own homemade lemonade with just fresh lemons, water and sugar.
Iced Tea: A classic and simple drink that is perfect for a hot day. You can serve unsweetened tea with lemon wedges or add a little sweetness with sugar or honey.
Water: Water is an essential drink that should be offered to guests.
Cocktails
Margaritas: A classic Mexican cocktail made with tequila, lime juice, and triple sec. You can serve them on the rocks or blended with ice.
Palomas: A refreshing cocktail made with tequila, grapefruit juice, and soda water.
Micheladas: A spicy and savory beer cocktail made with beer, lime juice, hot sauce, and Worcestershire sauce. Micheladas are perfect for those who love a little extra kick in their drink.
Imported Mexican Beer: A cold Mexican beer like Corona, Modelo, or Dos Equis is a classic drink option that pairs perfectly with Mexican food.
Tequila Shots: If you're feeling adventurous, tequila shots can be a fun addition to your taco bar party. Serve them with lime wedges and a sprinkle of salt.
3. Setting Up the Taco Bar
The make-your-own taco bar is the centerpiece of your party, so it's crucial to arrange it in an attractive and well-organized manner.
Organize The Ingredients and Toppings
Prior to your guests' arrival, ensure all the ingredients and toppings for the taco bar are sorted in a logical order. You could arrange the taco shells, tortillas, and other base options on one table, and present the toppings such as lettuce, tomatoes, onions, and cheese on another table. Consider labeling them to help guests easily identify their desired choices.
Display the Condiments
Designate a dedicated area for condiments and sauces, separated from the other ingredients of the taco bar. Present them in bowls or jars, alongside serving spoons or squeeze bottles for convenience
Provide Serving Utensils and Plates
Make sure you have enough serving utensils, such as tongs, spatulas, and spoons, for guests to handle the toppings and condiments. Provide plates specifically made for tacos, as well as plates, napkins, and flatware for guests to assemble and enjoy their tacos. Consider offering additional items such as cleansing wipes or hand sanitizer for guests to use before and after handling the toppings and condiments.
Plates and Bowls
Utensils: forks, knives, and spoons for guests to use plus serving utensils for each meat and topping.
Napkins: cloth or dipsosable napkins and paper towels.
Serving Dishes and Trays: to hold toppings, condiments, and sides.
Beverage Cups and Glasses: You'll need cups and glasses for guests to use for drinks.
Ice Bucket and Tongs: to hold and serve ice.
Other Supplies You May Need
Tables and Chairs: Depending on the location of the party, you might need to provide tables and chairs for guests to sit and eat.
Decorations: You can decorate the space with items such as balloons, streamers, and tablecloths. If you're hosting a themed party, you can also incorporate decorations that match the theme.
Lighting: If you're hosting the party in the evening, make sure to provide enough lighting so guests can see what they're eating.
Music and Entertainment: Create a playlist of music to play during the party or provide other forms of entertainment such as games or activities.
First Aid Kit: It's always a good idea to have a first aid kit on hand in case of any minor accidents or injuries.
Bug Spray: If you're hosting the party outdoors, provide bug spray to prevent guests from getting bitten.
Cleaning Supplies: You'll need cleaning supplies such as paper towels, cleaning solution, and trash bags to clean up after the party.
Signage and Instructions: Depending on the setup of the party, you might need to provide signage or instructions to guide guests through the diy taco bar and show them where to find everything they need.
4. Hosting Your Taco Bar Party
Welcome Your Guests and Introduce the Taco Bar
As your guests arrive, greet them with a warm welcome and show them where to find the taco bar. Provide a quick overview of the fillings and toppings available, and let them know that they are free to create their own tacos to their liking.
Encourage Guests to Create Their Own Tacos
Encourage your guests to get creative and experiment with different fillings and toppings. Provide plenty of options and encourage them to try something new. This will help to make the party interactive and enjoyable for everyone.
Ensure There is Enough Food and Drink for Everyone
Make sure there is enough food and drinks to go around for all of your guests. Keep an eye on the taco bar throughout the party and replenish any toppings or fillings that are running low. Also make sure that everyone has access to drinks and that there are non-alcoholic options available for those who don't drink.
Cleaning Up After the Party
Once the party is over, it's time to clean up. Start by putting away any leftover food and drinks and storing them in the fridge. Clear off the taco bar and wipe down any surfaces to ensure that everything is clean and tidy. Don't forget to thank your guests for coming and let them know that they are welcome back anytime.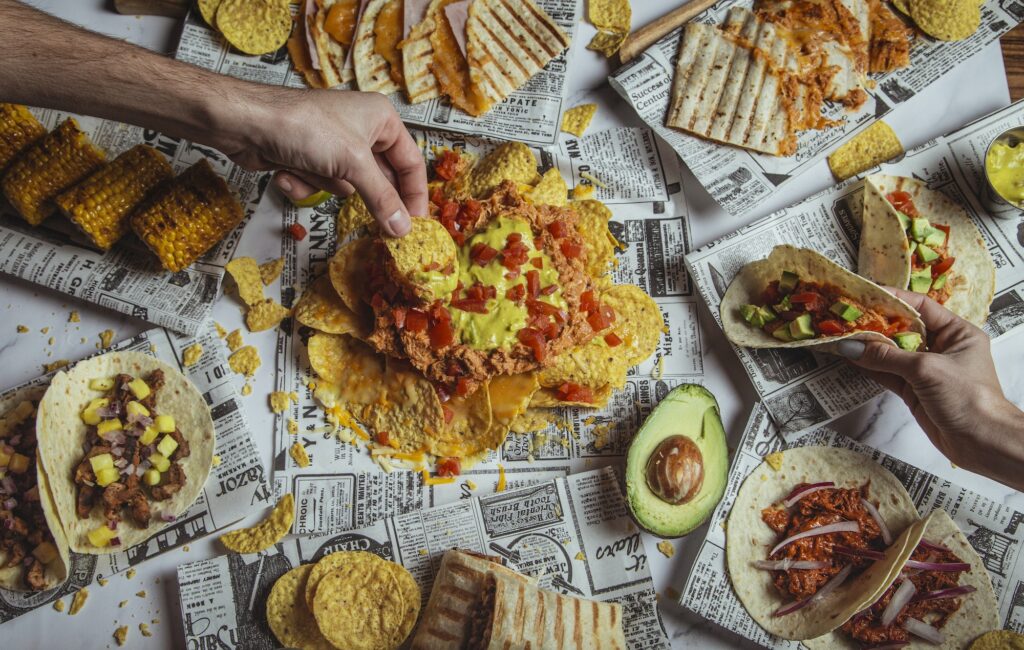 5. Cleaning Up and Closing the Party
As the party comes to a close, it's important to clean up the cooking and serving areas and dispose of any leftover food and trash. Here are some helpful tips for cleaning up after your taco bar party:
Dispose of Trash and Packing Leftover Food
Provide ample trash and recycling bins for guests to dispose of their plates, cups, and any leftover food. It's a good idea to clean up any spills or messes promptly to prevent them from becoming sticky or attracting insects. Consider offering to-go containers for guests to take a plate with them as they leave, which can help reduce food waste.
Clean Up the Cooking and Serving Areas
After the party, it's important to thoroughly clean the cooking and serving areas. This includes wiping down the grill, tables, and condiment and topping display areas. Be sure to dispose of any leftover food and condiments that are no longer safe to consume.
Storing Leftover Ingredients and Toppings
If you have any leftover ingredients and toppings, store them in airtight containers in the refrigerator for future use.
Thank Your Guests
After the party, thank your guests for coming and making the event a success. Consider sending a follow-up email or text message to thank them again and ask for any feedback on the party.
Reflect on the Success of the Party
After the party, take some time to reflect on its success. Consider what went well and what could be improved upon for future events. This will help you refine your hosting skills. The next time you throw a party this reflection will help make it even better!
Taco Bar Party FAQs
How many toppings should I provide for the taco bar?
It's a good idea to provide a variety of toppings to satisfy different tastes. Aim for at least 8-10 toppings such as lettuce, tomatoes, onions, cheese, sour cream, guacamole, salsa, and jalapeños.
Can I prepare the toppings and condiments in advance?
Yes, you can prepare some toppings and condiments in advance such as diced tomatoes, chopped onions, and salsa. However, it's best to wait to prepare avocado and guacamole until closer to serving time to prevent browning.
How many tortillas should I provide per person?
Plan for 3-4 tortillas per person, depending on the size of the tortillas.
How can I keep the meat warm during the party?
You can keep the meat warm in a slow cooker or chafing dish. Alternatively, you can cook the meat in batches and serve it fresh from the stove or grill.
How can I handle guests with dietary restrictions?
Be sure to offer vegetarian and gluten-free options for guests with dietary restrictions. You can label the toppings and condiments to indicate which options are suitable for specific dietary needs.
Final Thoughts and Recommendations:
Hosting a taco bar party is a fun and easy way to bring friends and family together for a casual and delicious meal. With a little bit of planning and preparation, you can create a memorable experience. Don't be afraid to get creative with your taco fillings and toppings, and don't forget to round out the offerings with drinks, sides and desserts. Taco bars are a great way to host graduation parties, birthday parties, corporate events, family gatherings, feed a large crowd and more.
If you haven't hosted a taco bar party before, we encourage you to give it a try. It's a great way to enjoy good food and drinks with friends and family, and it doesn't have to be complicated or expensive. With these tips and suggestions, you'll be well on your way to hosting a successful and enjoyable taco bar party.