If you're looking for a fun and casual way to entertain your friends or family, an ultimate build your own burger bar party might be just the thing. This gathering is where guests can build their own burgers using a variety of patties, their favorite toppings, condiments and more. It's a perfect opportunity to showcase your grilling skills and let your guests get creative with their burger creations.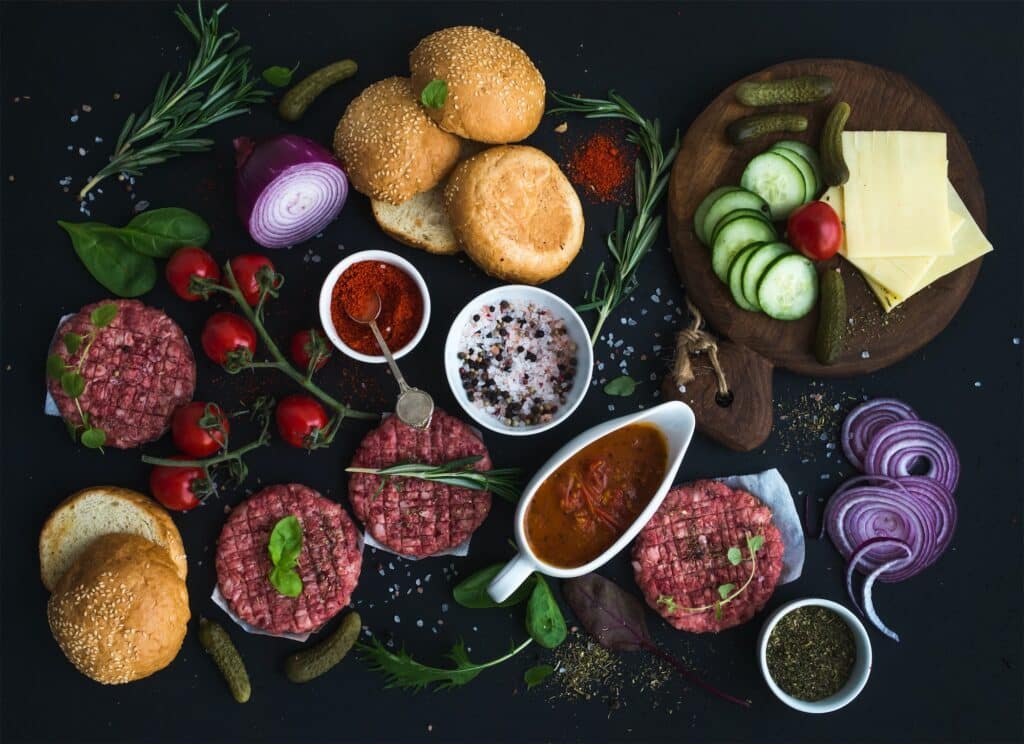 Table of Contents
Why Host a Burger Bar Party
A burger bar party is a fun way to socialize with your friends and family. Everyone can enjoy the experience by customizing burgers to their liking. A burger bar is also a versatile option that can be easily adapted for different dietary preferences, making it a great choice for guests with food sensitivities, allergies and restrictions. Additionally, this type of buffet style party is a budget-friendly way to feed a large group of people without sacrificing quality or taste. And did we mention how fun it is? It really is an enjoyable experience.
1. Planning the Party
Before you start prepping burgers, toppings and side items, you'll need to plan the logistics of your build your own burger bar party.
Choose Date, Time & Location
Pick a date and time that works for most of your guests and fits your schedule. As with most gatherings, weekend afternoons and evenings are popular choices. As for location, you can host the party at your backyard, patio, or even a public park or beach, depending on your preference and availability.
Location Ideas
Backyard: Hosting a burger party in your backyard is a very popular choice. It's super convenient and can provide plenty of space for guests to socialize and enjoy each other's company along with those delicious burgers!
Park: If you don't have a large enough backyard or want a change of scenery, hosting your burger party at a local park or picnic area is a great option. Be sure to reserve the space in advance and check for any park regulations.
Rooftop: How fun is a rooftop party? If you live in an apartment building, loft or condo that has rooftop access, hosting a burger party with a view can be a unique and memorable experience.
Beach: Hosting a beach party with a build your own burger bar is a fun idea that offers a relaxed atmosphere for your guests. Just make sure to bring all the necessary equipment and clean up any trash and leftover food.
Indoor Venue: Renting out a community center, banquet hall or other event space can provide ample room for your burger party, especially if you're expecting a large number of guests or planning to host your burger party during cooler months.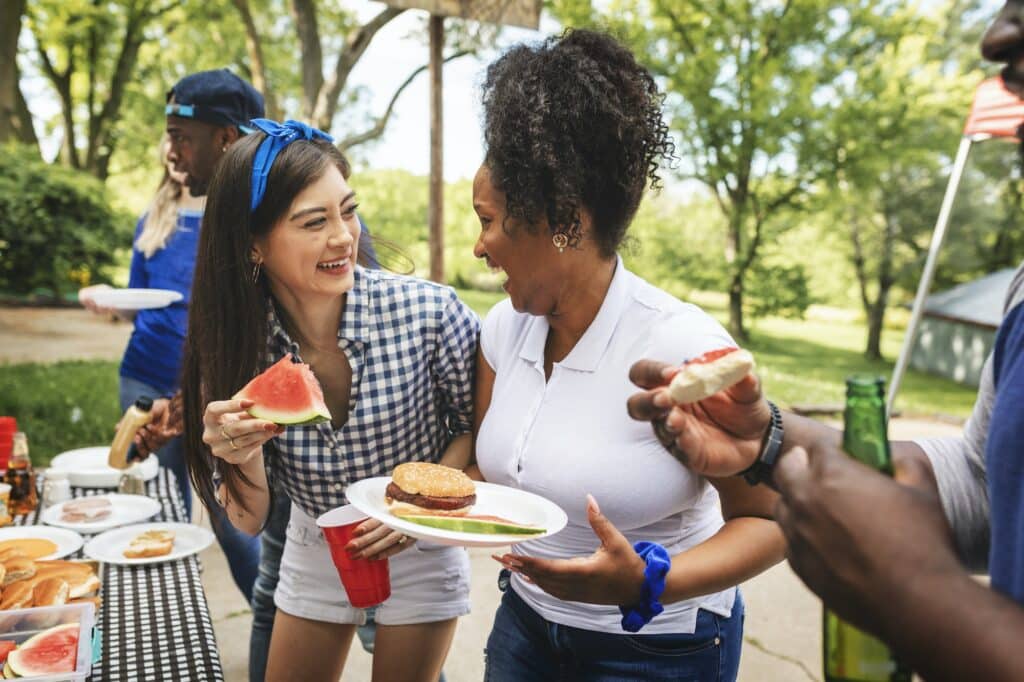 Invite Your Guests
Once you've set the date, it's time to send out the invitation. You can send out digital invitations or just simply create a Facebook event to keep everyone informed. It's also a good idea to ask guests to RSVP with any dietary restrictions and preferences so you can accommodate everyone's needs and also plan the quantities of ingredients accordingly.
Invitation Ideas
Paper Invitations: You can send traditional paper invitations by snail mail or hand-deliver them to your guests. This can add a personal touch and make the invitation feel more special. You can find pre-made invitation cards at a party supply store or create your own using design software.
Email Invitations: Another option is to send invitations via email. There are many free online invitation tools that allow you to design and send invitations via email. Some popular options include Evite and Paperless Post.
Social Media: You can also create a Facebook event or use other social media platforms like Instagram or Twitter to invite your guests. This can be a great way to get the word out, especially if most of your guests are active on social media.
Word of Mouth: If you're only inviting a small group of people, you can simply invite them in person, via text message or over the phone. This can be a more personal way to invite your guests and can help you gauge their interest in attending.
Create a Budget
It's very easy to get carried away when planning a burger bar party or any party for that matter. Setting a budget and sticking to it can help you stay on track. Consider the cost of ingredients, drinks, and supplies, as well as any rentals or decorations you might want. Here's a few budgeting templates to get you started.
Choose a Theme
Whils this is totally optional, adding a theme to your burger bar party can make it more festive and memorable.
Theme Inspiration
Around the World: This theme allows guests to sample different flavors and cuisines from around the world, such as Mexican, Italian, and Asian-inspired burgers.
Gourmet Burger Bar: Celebrate more elevated flavors, with burger toppings like truffle aioli, arugula, and brie cheese.
Slider Party: Feature smaller-sized burgers. This would be perfect for sampling a variety of different flavors and toppings.
Backyard BBQ Bash: This theme focuses on creating a fun and casual atmosphere, with games, music, and outdoor activities in addition to burgers.
Hawaiian Luau: Make it tropical with Hawaiian inspired decortions and toppings.
Fourth of July: A traditional theme that features red, white, and blue decorations.
Halloween: Get spooky and creative with options like green-colored buns and spooky toppings!
Set Up the Space
Before the party, make sure your party area is clean and spacious enough to accommodate your guests. Set up tables and chairs for seating, and designate a grilling area if cooking outside. You'll also need a space for the burger bar itself, where either you or your guests can assemble their burgers. If you choose not to have a theme, still consider adding decorations such as colorful tablecloths or string lights to create a festive ambiance.
2. Creating the Menu
The menu is the centerpiece of your build your own burger bar party. Our favorite part about this type of party is it's super easy to accommodate everyone's prefrences. Even the pickiest of guests can find something they'll enjoy when they get to customize their own meal.
Choose Your Burger Patties
There are many different types of burger patties to choose from, including beef, chicken, turkey, veggie and more. You can even mix and match different types to offer a wider range of flavors. Make sure to have enough patties for all your guests, and consider adding a few extra for those who may want seconds or even thirds!
Beef Patties: These classic hamburger patties are a popular choice and pretty much a must-have for a burger party. You can choose from different types of beef like ground sirloin, chuck or round. I preferred beef is 80/20 ground chuck for burgers.
Turkey Patties: If you're looking for a healthier option or have guests that don't eat red meat, turkey patties are a great choice. They are leaner than beef patties and can be seasoned with different herbs and spices to add flavor. A trick to flavorful and juicy turkey patties is adding butter. Yep! Butter! It's freakin delicious.
Veggie Burgers: For guests who are vegetarian or vegan, you can offer veggie patties made from plant-based ingredients such as black beans, chickpeas and/or mushrooms. These patties can be just as delicious as meat-based patties.
Chicken Patties: Chicken patties are another option for a lighter and healthier burger. They can be made from ground chicken breast or thighs and can be seasoned with different spices and herbs.
Fish Patties: For a unique twist, you can offer patties made from salmon, crab or other types of fish.
Select Your Toppings
The toppings are where your guests get creative and make the burgers truly their own. Offer a variety of toppings and don't forget to provide sauces and condiments.
Cheeses
Cheddar: Cheddar cheese is a classic choice for burgers and is loved for its sharp, tangy flavor. It melts well and can be used in both shredded and sliced form.
American: American cheese is another popular choice. It has a mild and creamy flavor and melts well.
Swiss: Swiss cheese has a nutty and mild flavor and can be a great addition to burgers. It's commonly served on burgers with sautéed mushrooms or caramelized onions.
Pepper Jack: Pepper Jack cheese is a spicy version of Monterey Jack cheese and adds a kick of heat to burgers.
Blue Cheese: Blue cheese has a sharp and pungent flavor and can be a great addition to burgers for guests who enjoy a strong, pungent cheese.
Gouda Cheese: This is a semi-hard cheese with a mild, nutty flavor that can add a subtle smokiness to your burger. Gouda cheese can be grated and mixed into the meat mixture for a unique flavor.
Provolone Cheese: This is a semi-soft cheese with a mild, creamy flavor that also melts well and can add a delicious creaminess to your burger.
Feta cheese: This is a crumbly cheese with a tangy, salty flavor that can add a nice contrast to the richness of your burger. Feta cheese also pairs well with Mediterranean-inspired toppings such as olives, roasted red peppers, and tzatziki sauce.
Condiments
Ketchup: Ketchup is a classic burger condiment that provides a tangy and slightly sweet flavor. It pairs well with almost any type of burger.
Mustard: Mustard is another classic condiment that provides a tangy flavor. You can use yellow mustard, Dijon mustard, or even whole grain mustard.
Mayonnaise: Mayonnaise is a creamy and savory condiment that can add a rich flavor to burgers. Please don't let this in the heat for long periods of time!
BBQ Sauce: BBQ sauce is a smoky and sweet condiment that can add a bold flavor to burgers.
Hot Sauce: Hot sauce can add a spicy kick to burgers for guests who enjoy heat. You can use different types of hot sauce, such as Tabasco, Sriracha, or our favorite, Frank's Red Hot.
Relish: Relish is another tangy condiment that can also be sweet. You can use pickle relish or other types of relish like onion relish or tomato relish.
Aioli: Aioli is a garlic-flavored mayonnaise that can add a bold and savory flavor to burgers.
Veggie Toppings
Lettuce: Lettuce is a common topping for burgers and can provide a refreshing crunch. Iceberg, romaine and butter lettuce are popular options.
Tomato: Tomatoes are a classic burger topping and provide a juicy burst of flavor. Beefsteak tomatoes pair perfectly with a juicy burger.
Onion: Onions can be served raw, sautéed or caramelized. Red onions and sweet onions are great options.
Pickles: As with relish, pickles add a tangy and crunchy texture that can add a great flavor to burgers.
Avocado: Avocado adds a creamy and buttery flavor. You can use sliced or mashed avocado or even guacamole.
Mushrooms: Mushrooms can be sautéed and added to burgers for a meaty and savory flavor.
Peppers: Peppers can add a spicy and sweet flavor to burgers. You can serve jalapeño peppers, banana peppers, or roasted bell peppers.
Other Toppings
Bacon: Bacon is a popular topping for burgers, offering a salty and smoky flavor.
Fried Egg: A fried egg can add a creamy and rich flavor to a burger, and it pairs well with bacon.
Chili: Chili can be used as a topping for burgers, adding a hearty and spicy flavor.
Choose Your Buns
The bread is just as important as the burger itself. Offer a variety of buns and bread options or even lettuce wraps for guests who prefer a low-carb option.
Traditional Burger Buns: White burger buns are a classic choice for burgers. They are soft, fluffy, and hold up well to the weight of the burger and toppings.
Brioche Buns: Brioche buns are a buttery and slightly sweet option that can add a rich and decadent flavor to burgers. Our go to when it comes to burger buns.
Pretzel Buns: Pretzel buns are chewy and salty option that can add a unique flavor and texture to burgers.
Whole Wheat Buns: Whole wheat buns are a healthier option that can add a nutty and slightly sweet flavor.
Ciabatta Bread: Ciabatta bread is a rustic and crusty option that can add a chewy and flavorful texture to burgers.
Sourdough Bread: Sourdough bread is a tangy and slightly sour option that can add a unique and flavorful twist.
Croissant: If you've never had a burger on a buttery croissant then you are missing out! Who know something so soft and buttery would hold up to a topping filled burger. So sood!
Offer Side Dishes and Snacks
While burgers are the main attraction, it's always a good idea to offer some sides and snacks to complement the meal. Consider offering classic sides such as fries, onion rings, and coleslaw, as well as healthier options such as vegetable platters, fruit salads, or sweet potato fries.
Side Dishes
French Fries: French fries are a classic side dish that will always pair well with a good burger!
Onion Rings: Onion rings are a crispy and crunchy option that can add a sweet and savory flavor to the meal.
Coleslaw: Coleslaw is a refreshing side dish that adds a crunchy and tangy flavor to the meal.
Mac and Cheese: Mac and cheese is a rich and creamy side dish that can complement even a bowl of cereal. Yum!
Grilled or Sauteed Vegetables: Vegetables such as green beans, zucchini, corn and eggplant are healthy and flavorful options.
Potato Salad: Potato salad is a creamy and comforting side dish that is a mainstay at a cookouts.
Easy Snack Ideas
Chips and Dip: You can serve a variety of chips such as potato chips, tortilla chips, or pita chips with dips such as salsa, smoked trout dip, feta dip or hummus.
Popcorn: Popcorn is a light and crunchy snack that can be served in different flavors such as butter, cheese, or caramel.
Soft Baked Pretzels: Baked pretzels, a salty and chewy snack can be served with different dips as well.
Vegetable Platter: Have fun and create a board of vegetables such as carrots, celery, cucumber, or bell peppers with dips such as ranch or tzatziki.
Cheese and Crackers: Choose a variety of cheeses such as cheddar, brie, or gouda with crackers and bread.
Nuts: An easy snack of nuts such as almonds, peanuts, or cashews with different seasonings such as salt or spice.
Select Your Beverages
Don't forget to offer a variety of drinks to quench your guests' thirst. Offer water, soda, lemonade, or iced tea as non-alcoholic options. You can also offer beer, wine, or cocktails if you prefer. Just make sure to have enough drinks for everyone and to provide non-alcoholic options for those who don't drink.
Pop a.k.a. Soda: Popular options are cola, lemon-lime, root beer, or ginger ale.
Beer and Wine: Beer is a popular choice for burger parties. Offer a variety of beer such as lager, ale, or IPA. White, red and rose are great wine options.
Lemonade: Lemonade is a refreshing and sweet option that can be served in different flavors such as classic, strawberry or peach.
Iced Tea: Aside from water, did you know that Iced tea is the most popular beverage in the US? Try serving it sweetened and unsweetened or even flavored.
Water: Water is an essential drink that should be offered to guests.
3. Setting Up the Burger Bar
The build your own burger bar is the heart of your party so it's important to set it up in an organized and appealing fashion.
Organize The Ingredients and Toppings
Before your guests arrive, organize all the ingredients and toppings in a logical order. Arrange the burger patties, buns, and bread options on one table, and display the toppings such as lettuce, tomatoes, onions, and cheese on another table. Make sure to have enough of each topping, and consider labeling them so guests can easily identify what they want.
Display the Condiments
Set up a separate section for the condiments and sauces. Display them in bowls or jars with serving spoons or squeeze bottles for easy access. Make sure to label each condiment, so guests know what they are choosing.
Set Up the Grill or Indoor Cooking Area
Designate a grilling area or indoor cooking area where you or your guests can cook their patties to their desired temperature. You can certainly pre-cook your patties but if have the time, we suggest making them to order.
Provide Serving Utensils and Plates
Make sure to have enough serving utensils such as tongs, spatulas, and spoons, for guests to handle the toppings and condiments. Provide plates, napkins and flatware for guests to assemble and enjoy their burgers. Consider providing extras such as cleansing wipes or hand sanitizer for guests to use before and after handling the toppings and conidments.
Plates and Bowls: for guests to put their burgers and sides on.
Utensils: forks, knives, and spoons for guests to use.
Napkins: cloth or dipsosable napkins and paper towels.
Serving Dishes and Trays: to hold toppings, condiments, and sides.
Tongs and Spatulas: to flip burgers and move them around on the grill or stovetop.
Grilling Tools: If grilling, you'll need a grill brush, charcoal or lighter fluid, and propane tank (if using a gas grill).
Beverage Cups and Glasses: You'll need cups and glasses for guests to use for drinks.
Ice Bucket and Tongs: to hold and serve ice.
Toothpicks and Skewers: to hold toppings such as olives or pickles in place on the burgers.
Other Supplies You May Need
Tables and Chairs: Depending on the location of the party, you might need to provide tables and chairs for guests to sit and eat.
Decorations: You can decorate the space with items such as balloons, streamers, and tablecloths. If you're hosting a themed party, you can also incorporate decorations that match the theme.
Lighting: If you're hosting the party in the evening, make sure to provide enough lighting so guests can see what they're eating.
Music and Entertainment: Create a playlist of music to play during the party or provide other forms of entertainment such as games or activities.
First Aid Kit: It's always a good idea to have a first aid kit on hand in case of any minor accidents or injuries.
Bug Spray: If you're hosting the party outdoors, provide bug spray to prevent guests from getting bitten.
Cleaning Supplies: You'll need cleaning supplies such as paper towels, cleaning solution, and trash bags to clean up after the party.
Signage and Instructions: Depending on the setup of the party, you might need to provide signage or instructions to guide guests through the diy burger bar and show them where to find everything they need.
4. Hosting the Party
Once the planning and setup are complete, it's time to host your build your own burger bar party! Here are some tips for hosting a successful party:
Welcome Guests and Introduce the Menu
Greet your guests as they arrive and give them a brief overview of the burger bar menu and setup. This will help them understand what to expect and how to navigate the setup.
Explain The Setup and Rules
Make sure to explain the setup of the party to your guests. This includes where the different ingredients are located, how to use the grill if they will be cooking their own burgers, and any safety precautions that need to be taken.
Encourage Guests to Get Creative with Their Burgers
Encourage your guests to get creative with their burgers by trying new toppings and combinations. This will add to the fun and excitement of the party and make it more memorable for everyone.
Ensure Guests are Happy and Satisfied
Ultimately, the success of the party depends on how happy and satisfied your guests are. Check in with them throughout the party and ask for feedback on the food and setup. This will help you improve for future events and ensure that your guests have a great time.
5. Cleaning Up and Closing the Party
As the party winds down, clean the cooking and serving areas and dispose of any trash and leftover food. Here are some tips for cleaning up after your burger bar party:
Dispose of Trash and Packing Leftover Food
Provide plenty of trash and recycling bins for guests to dispose of their plates, cups, and any leftover food. Make sure to clean up any spills or messes as they occur to prevent them from getting sticky or attracting insects. Provide to-go containers for guests to make a plate as they leave. This helps prevents food waste.
Clean Up the Cooking and Serving Areas
After the party, completely clean the cooking and serving areas. This includes wiping down the grill, tables, and condiment and toppings display areas. Make sure to dispose of any leftover food and condiments that are no longer safe to consume.
Storing Leftover Ingredients and Toppings
If you have any leftover ingredients and toppings, store them in airtight containers in the refrigerator for future use.
Thank Guests For Coming
After the party, thank your guests for coming and making the event a success. Consider sending a follow-up email or text message to thank them again and ask for any feedback on the party.
Reflect on the Success of the Party
After the party, take some time to reflect on its success. Consider what went well and what could be improved upon for future events. This will help you refine your hosting skills and make future parties even better.
6. Build Your Own Burger Bar FAQs
What is a build-your-own burger bar party?
A build-your-own burger bar party is a type of party where guests can create their own custom burgers by choosing from a variety of burger patties, toppings, buns, and condiments.
How many toppings should I offer at my burger bar party?
It depends on the size of your party and the number of guests. As a general rule, it's a good idea to offer a variety of toppings to suit different tastes and dietary restrictions. Aim for at least 5-7 different toppings.
Should I pre-cook the burgers or cook them on the spot?
It's totally up to you! You can pre-cook the burgers and keep them warm in a low-heat oven or on a warming tray, or you can cook them on the spot on a grill or griddle.
How can I accommodate guests with dietary restrictions?
Offering a variety of burger patties, toppings, and buns can help accommodate guests with dietary restrictions, such as vegetarians or those who are gluten-free. Make sure to label the different options so guests know what's available.
How can I set up my burger bar party for optimal flow?
Consider setting up the toppings and condiments in a logical order, such as starting with the lettuce and tomato, followed by the other toppings, and ending with the condiments. Make sure to have enough space for guests to move around and create their burgers, and have plenty of serving utensils and plates available.
How can I make sure everyone is satisfied at my burger bar party?
Encourage guests to get creative with their burgers and try different toppings and condiments. Make sure to have plenty of food and drink options available, and check in with guests throughout the party to make sure they have everything they need.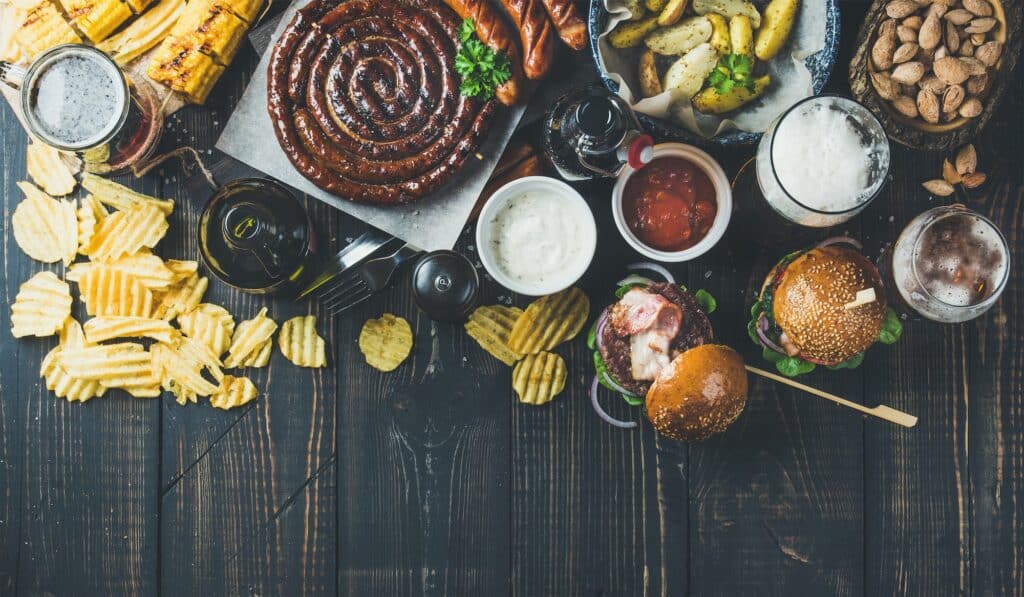 7. Additional tips and suggestions
Games & Activities: Set up some outdoor games or activities to keep guests entertained.
Have a Backup Plan: Make sure to have a backup plan in case of inclement weather or other unforeseen circumstances.
Prepare Toppings in Advance: Some toppings, such as caramelized onions or homemade sauces, can take time to prepare. Making these in advance ensures you're not stuck in the kitchen during the party.
Don't forget the dessert! A burger party doesn't have to be all about burgers. Popular options are cookies, brownies and banana pudding. For healthier option, try our roasted stone fruit recipe.
Have Fun With Presentation: Offer toppings in unique containers or display burgers on a fun platter to make the experience more visually appealing.
Offer a Signature Burger: Create a signature burger that incorporates unique flavors or ingredients to give guests something special to try.
Have a Potluck: If you're hosting a larger party, think about making it a potluck and asking guests to bring a side dish or topping to share.
Hosting a burger bar party is so much fun and a great way to bring friends and family together for a casual and enjoyable evening. By following these simple tips and suggestions, you can create an unforgettable burger bar party that your guests will be talking about for weeks to come. Let us know if the comments below if we forgot something.