Tacos are a staple in many diets, especially in our family! Store-bought taco seasoning packets can make it super easy to whip up a quick Taco Tuesday. But did you know the grocery store stuff can be loaded with carbs? If you're trying to stick to your keto macros, it's important to read labels and find the right taco seasoning for your low-carb diet. Or how about making it yourself? This easy 5-minute recipe for homemade gluten-free and low-carb taco meat seasoning mix uses simple ingredients you already have on hand PLUS it includes our secret ingredient that replaces the msg.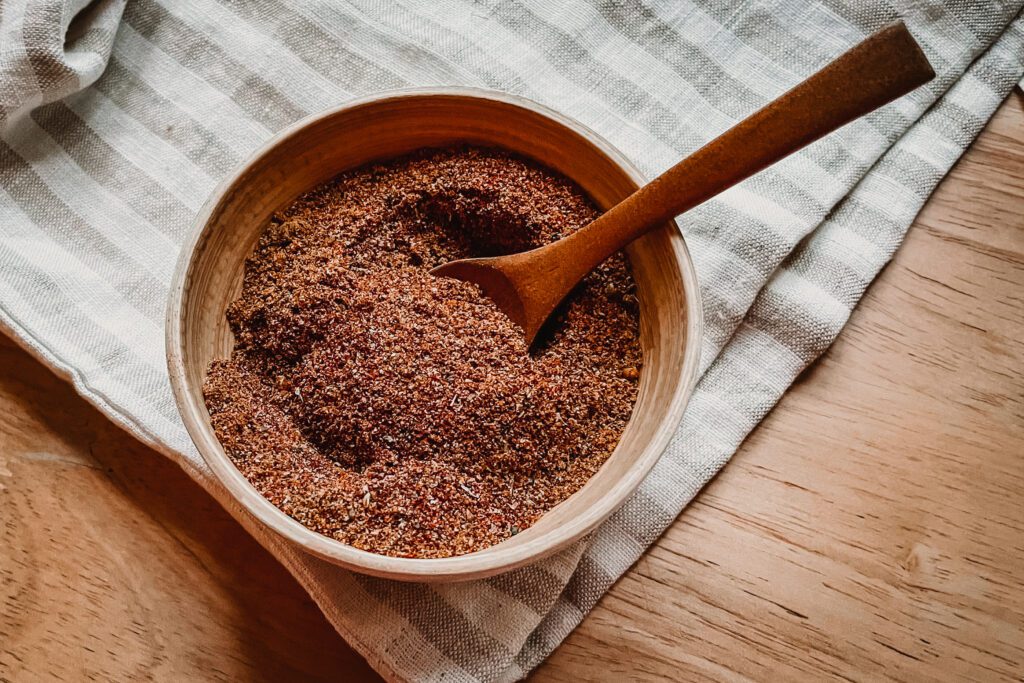 Table of Contents
Our keto taco seasoning recipe offers an array of flavors that just can't be matched! With just the right amount of onion, garlic, cumin and other spices, it is everything you are looking for in a taco seasoning. Plus, it's low carb, so you won't have to worry about the extra calories when you reach for this pantry staple. Whether it's for tacos or something else entirely, having your own homemade taco seasoning on hand will give you the flavor boost your dish needs.
Why is homemade taco seasoning better than store-bought?
It's Customizable. Homemade taco seasoning has numerous advantages over store-bought varieties. Perhaps the most prominent of these benefits is that you can customize your seasoning to fit your taste preferences. You can make it as spicy or mild as you want, and add in any extra herbs you'd like.
Contains Fewer Preservatives Another benefit of homemade low carb taco seasoning is that it contains fewer preservatives than store-bought taco seasoning. Preservatives are added to food products in order to extend their shelf life. While preservatives can be beneficial, they can also be harmful to our health.
Non-GMO If you are thoughtful about the ingredients you choose, your homemade taco seasoning will not contain genetically modified organisms (GMOs). GMOs are plants or animals that have been created through genetic engineering, a process in which genes from one organism are inserted into another organism in order to create a new variety with desired traits. We all know GMOs may have an adverse effect on our health.
Simple to make in a large batch This recipe makes a small batch but you can double or even triple this recipe so you have a large supply on hand.
When it comes to store-bought taco seasonings, there can be a lot of hidden carbs. Common ingredients like sugar and cornstarch can quickly add up and throw off your macro goals for the day. Eating processed foods can also lead to health risks including weight gain, diabetes, heart disease, and more. If you still choose to buy store-bought over making your own keto taco seasoning mix, make sure you read the labels carefully. Look for words like "sugar-free" or "low carb" on the packaging. There are a few brands that specialize in low-carb options.
Our Secret Ingredient: Umami Blend by Simply Organic
We take our taco seasoning blend to another level with the Umami Seasoning Blend by Simply Organic. This Original Umami Blend is a flavor profile like no other. It's a harmonious mix of earthy porcini and shiitake mushrooms, complemented by hints of onion, thyme and chili pepper spice for a richly savory experience! Simply Organic has crafted a flavor experience that is naturally delicious with no MSG or other artificial additives. Simply Organic has not sponsored this post. We just LOVE this stuff!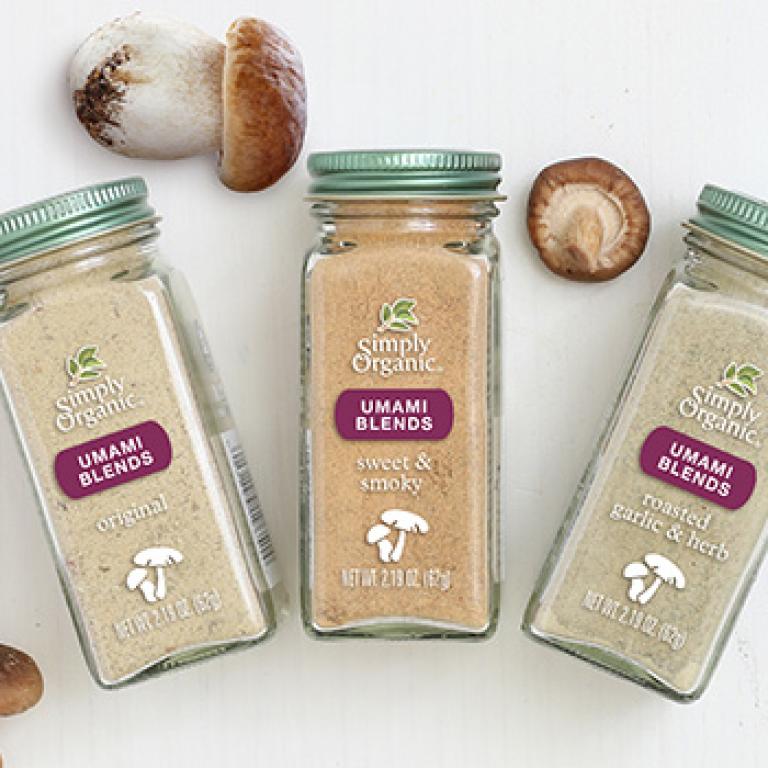 What is Umami?
Have you ever eaten something that was hard to describe, but still left a lasting impression? Chances are it had a flavor known as umami! Umami is the fifth taste recognized by humans and can often be described as having an elusive 'savory' taste. It's found in many of your favorite foods like Parmesan cheese, tomatoes and mushrooms.
Homemade Taco Seasoning Ingredients
See all suggested measurements in the recipe card below. Also note, the following ingredients are what we love in a taco mix. Feel free to make this spice mixture to fit your tastes!
Chili Powder: This is the key ingredient in taco seasoning and gives it its characteristic flavor. Rich and intense, it's made from dried chili peppers ground into a finely milled powder.
Cumin: Cumin is a spice that adds a smoky flavor to the seasoning. It is typically used in Mexican, Indian and Middle Eastern cuisine.
Garlic Powder: Garlic powder is a dried form of garlic that helps to add flavor and aroma to the seasoning.
Onion Powder: Onion powder is a dried form of onion that helps to add sweetness and depth of flavor to the seasoning.
Oregano: Oregano adds a unique, pungent and lemon-like aroma. Another essential ingredient in taco seasoning! Don't leave it out!
Paprika: Paprika is a spice made from dried red peppers that adds color and sweetness to the seasoning.
Kosher Salt or Sea Salt: Salt is added to help bring out the flavors of the other ingredients and to balance the overall taste of the seasoning.
Ground Black Pepper: Black pepper is added for both flavor and a mild heat.
Umami Seasoning: Experience that 5th sense of taste with this savory blend.
Cayenne Pepper: Cayenne pepper is added for heat and can be adjusted to taste. You can also opt for red pepper flakes
How To Make Homemade Taco Seasoning
It's as simple as mixing all of your ingredients together. Measure out all herbs and spices into a small bowl or mason jar. Give it a mix with a fork or whisk. That's it! You can either use it right away or store in an air-tight container in a dark cool dry place until ready to use.
What can I use taco seasoning for?
Taco seasoning is a versatile mix of spices that can be used in a variety of delicious recipes. It's perfect for making tacos, no surprise there! But it also works perfectly with burritos and enchiladas. You can even use taco seasoning when making fajitas or quesadillas! Just sprinkle some taco seasoning over your choice of protein and veggies before cooking them in a skillet or baking them in an oven – easy peasy! You can also spice up your favorite soups, stews and chilis with a teaspoon or two of this taco seasoning.
How long does homemade taco seasoning last?
The key to maximizing the shelf life of homemade taco seasoning is proper storage. To stay fresh and flavorful, store it in an airtight container away from direct sunlight, heat sources like stoves or ovens, and moisture sources such as sinks or dishwashers. This should keep it fresh for up to one year. But note, this all depends on how long you've had the spices before blending up your mix!
How much taco seasoning do I need to make tacos?
The amount of seasoning you need depends on how much meat you're using and the intensity of the flavors you want in your dish. If you're starting with a pound of meat such as ground beef, ground turkey or chicken, then about 2 tablespoons of taco seasoning mix should be enough to give plenty of flavor without being overly spicy.
Our low carb taco seasoning mix is designed specifically with the ketogenic diet in mind! This keto taco mix has only 1g net carbs per serving so you don't have to worry about going over your daily carb limit with each meal. Plus, our blend is free from any artificial flavors or preservatives so you can enjoy taco night without any guilt!
Looking for More Spice Blends and Sauces?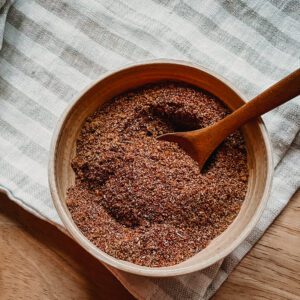 Low Carb Taco Seasoning with Secret Ingredient
With just the right amount of onion, garlic, cumin and other spices, it is everything you are looking for in a low carb taco seasoning.
Ingredients
2

tbsp

chili powder

1

tbsp

cumin

1

tsp

garlic powder

1

tsp

onion powder

1

tbsp

paprika

1

tsp

oregano

1

tsp

kosher salt

1

tsp

ground black pepper

1

tsp

umami blend

1/8

tsp

cayenne pepper

,

optional
Instructions
Whisk together all ingredients in a bowl or mason jar. Store in an airtight container in a cool, dry place.

To make taco meat: Brown the ground beef or ground turkey. Add 2 tbsp seasoning mix and a 1/4 cup of water for every pound of meat. Simmer until the liquid evaporates. Add additional seasoning to taste. Optionally, you can add 1/2 tbsp corn starch as a thickener but this will affect the macros.