Christmas is right around the corner so that means it's time for another big holiday meal! If you're serving Honey Baked Ham at the dinner table this year, you'll need some delicious side dishes to go with it. We've put together a roundup of 26 of the best side dishes to serve with your Christmas ham. From brown butter brussels sprouts to crispy fried goat cheese, we've got something for everyone to enjoy with the main course! So get cooking and impress your friends and family with this Christmas dinner! And keep in mind, these side dishes are great for Easter dinner, Thanksgiving dinners, Sunday supper and more.
About Honey Baked Ham
Honey Baked Ham is a popular and well-known food brand that has been around since 1957. Since its founding, they have gained a reputation as one of America's top gourmet food manufacturers, selling their signature smoked spiral hams and turkey breast to customers across the US. The also offer some tasty side dishes.
The secret to their success has been the combination of their traditional recipes with modern gas-fire technology for cooking. The result is always tender and juicy meat that tastes like it was made the traditional small-batch way but delivered faster and fresher. Over the last 60 years, Honey Baked Ham's commitment to providing quality ingredients and flavors has made them a staple American brand for celebrating every holiday in delicious style.
Christmas Sides To Serve With Honey Baked Ham
by Scratch Market
"A holiday classic. These tasty sprouts are tossed with brown butter, giving them a nutty flavor that just about everyone will love. Plus, they're easy to make and only require a few simple ingredients. Serve them with your favorite protein or alongside some roasted potatoes for a complete meal."
by Eat Love Eats
"This hasselback butternut squash is taken to the next level with bacon brown butter and makes the perfect side dish during autumn. A great addition to any roast or special dinner, especially during the festive season."
by Strength and Sunshine
"A warm sorghum salad paired with roasted kohlrabi, ginger gold apple, and fennel. This gluten-free vegan recipe is slightly sweet, comforting, and nourishing for the cold months ahead."
by Scratch Market
"Fresh green beans are a very nutritious vegetable that can be cooked in a variety of ways. In this simple skillet recipe, we're going to show how to make sautéed green beans using olive oil and a few other basic ingredients. A great side dish that goes with just about anything."
by Veggie Desserts
"This easy Candied Sweet Potato Casserole recipe combines tender sliced sweet potatoes with a homemade candied sauce and pecans. Serve as a comforting Christmas or Thanksgiving side dish or enjoy during the week with your favorite meals during the cooler months! Gluten-free and easily vegan. No marshmallows!"
by Burrata and Bubbles
"Upgrade your comfort food game with the ultimate smoked mac and cheese! Made with cheddar, Gouda and Gruyère and topped with crispy panko crumbs, this cheesy pasta is the perfect side dish for your summer barbecues and holiday celebrations alike."
by Salt In My Coffee
"Change up the classic holiday side dish this year, with a zesty pineapple cranberry sauce that everyone loves! With bright flavors of fresh pineapple and cranberries, you'd never guess it's actually lower in sugar than most cranberry sauce!"
by Scratch Market
"This salad is a crowd favorite and simple to make and the best part is that it can be tailored to your taste preferences. Plus, it's packed with healthy veggies that will leave you feeling satisfied."
by Saporito Kitchen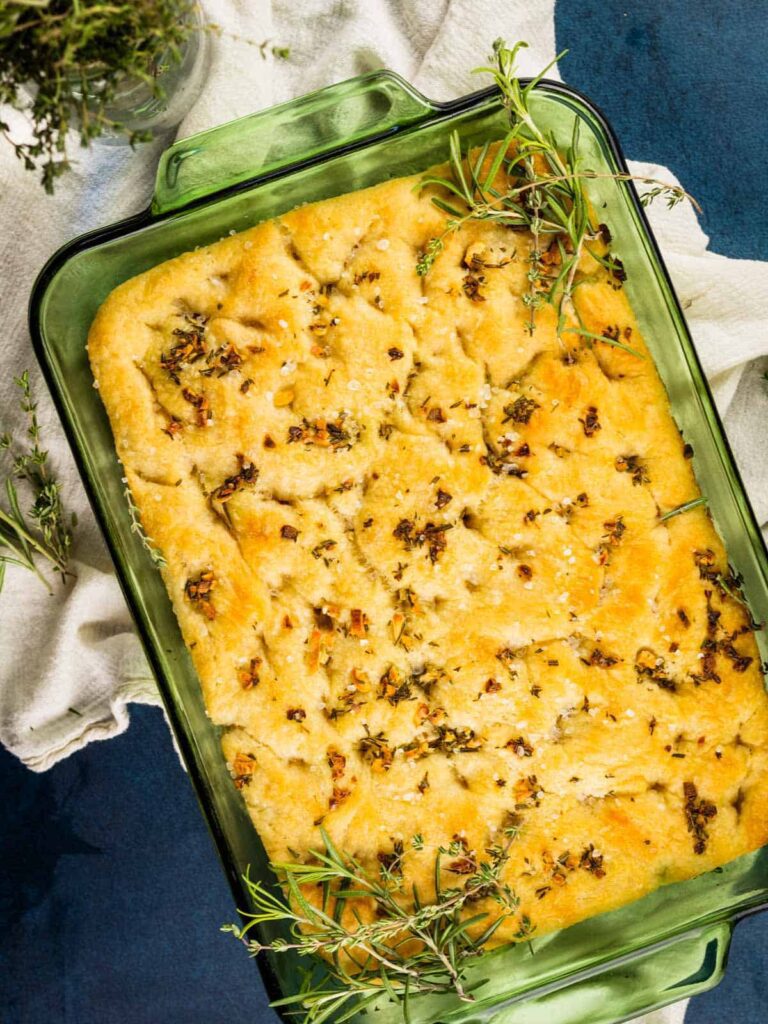 "This is the BEST Italian focaccia recipe that is super easy to make. Topped with fresh garlic, rosemary and thyme, this bread is fluffy on the inside with the best crispy edges!"
by Zucchini Zone
"Cornbread zucchini casserole is a classic comfort food side dish. It's like a moist cornbread in casserole form, filled with shredded zucchini, onion, and pepper jack cheese."
by Whiskful Cooking
"This Candied Pecan and Cranberry Pear Salad is filled with tart cranberries, crisp pears, sugar candied pecans, and topped with a sweet honey vinaigrette. Delicious and beautiful for Christmas, Thanksgiving, holiday meals, or weeknight dinners!"
by Eat Love Eats
"This roasted swede (rutabaga) recipe is super simple and makes for a perfect side dish for any Sunday roast dinner or even Thanksgiving or Christmas. You can prepare it in under five minutes as the rest is hands off in the oven."
by The Vegan Larder
"Honey Roasted Carrots and Parsnips is such a classic British side dish with roast dinners or for Christmas. I've made a simple vegan swap and used Maple syrup and I truly think this easy but essential dish is now perfection! The natural sweetness of the carrots and parsnips is brought to life with the addition of a little slightly smokey sweet maple syrup."
by Drive Me Hungry
"Southern baked mac and cheese with a crunchy, golden brown breadcrumb topping! Made with gruyere and white cheddar cheese. Creamy, cheesy, and comforting!"
by The Oregon Dietitian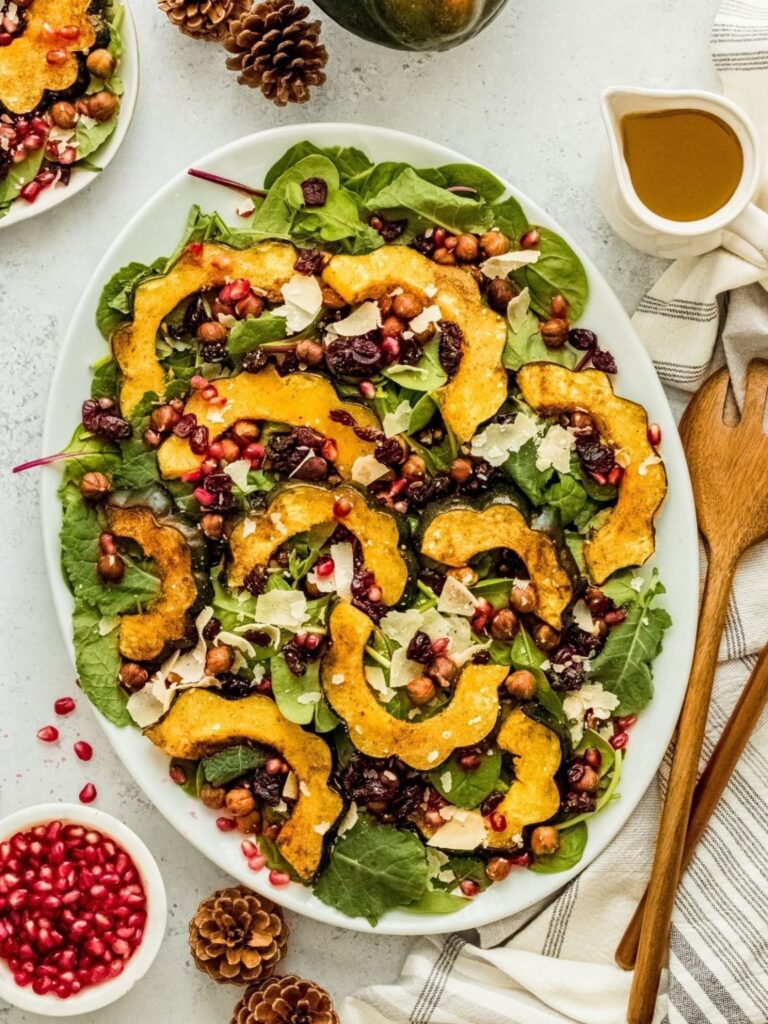 "Roasted acorn squash salad is a must for Thanksgiving or even as a side for a fall dinner, especially drizzled with creamy maple dressing!."
by Cook Eat Live Love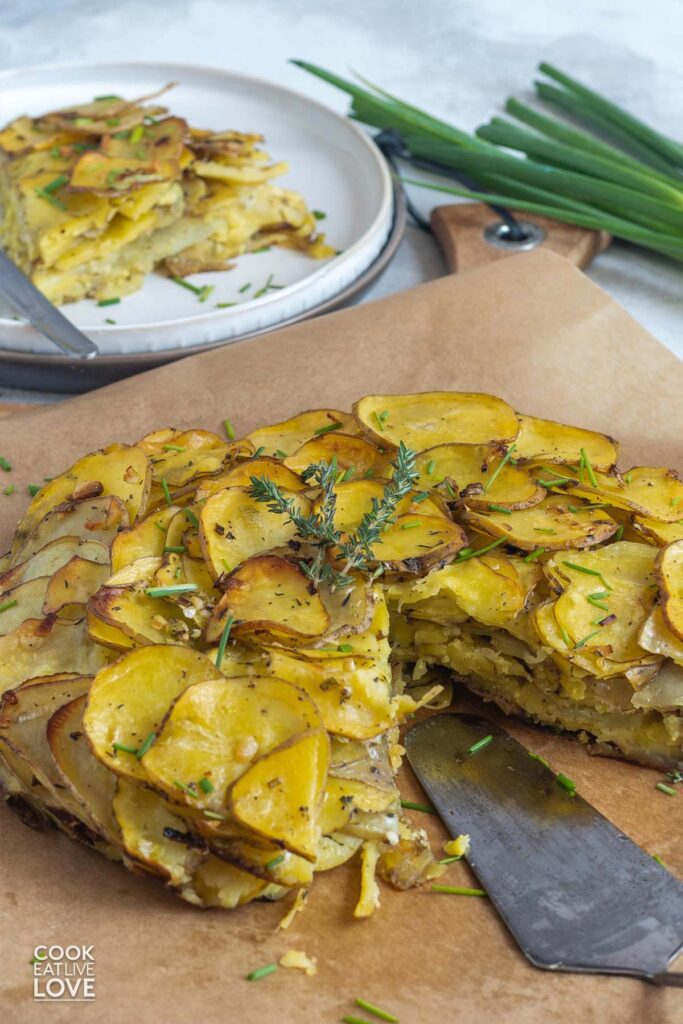 "Looking for a new way to serve potatoes? This savory potato galette may be just what you're looking for to spruce up your meals. Garlic and herbs flavor thinly sliced potatoes layered into a round dish and cooked until crispy on the bottom and the top."
by I Heart Vegetables
"This wild rice and butternut squash salad makes a great Thanksgiving side dish because it's colorful and a little unexpected. Since this dish is vegan and gluten-free, everyone can enjoy it!"
by Primavera Kitchen
"Rich and creamy, this Potatoes au Gratin recipe is a decadent side dish that goes with every meal. This French classic is made with layers of finely sliced potatoes, cream, and cheese. What's not to like about that?! It is perfect for the holidays or a Sunday family dinner."
by White Kitchen Red Wine
"If you've been on the hunt for an exciting (and easy!) new appetizer for the holiday season, stop your scrolling. My recipe for Crispy Fried Goat Cheese is made with just 6 easy-to-find ingredients and has the perfect balance of tangy, herby flavors and creamy, crunchy textures."
by I Heart Vegetables
"This pesto orzo salad is made with creamy ricotta and salty pistachios for a uniquely delicious pasta dish! You can enjoy this recipe served warm or cold!"
by The Feathered Nester
"Make the creamiest, richest, most delicious Instant Pot mashed red potatoes with only 4 ingredients. This easy recipe takes under 30 minutes to make and you don't even need to peel the red potatoes! Simply pressure cook, drain, and mash with butter and cream cheese for a delicious Instant Pot red skin mashed potatoes side dish."
by The Lazy Slow Cooker
"Slow cooker garlic parmesan mushrooms are the ultimate crockpot side dish. This easy and flavorful recipe will instantly elevate any meal you choose to add it to!"
by Krumpli
"Glazed Chantenay carrots are quick & really easy to cook, naturally very sweet I cook them in a little brown sugar & lots of butter. A single pan and 20 minutes is all you need to have this delicious side dish ready and thanks to the variety of carrots, no peeling is needed."
by Alton Brown
"Fresh green beans are the star of Alton Brown's Best-Ever Green Bean Casserole recipe from Good Eats on Food Network"
by Skinny Taste
"Cacio e pepe translates from Italian to "cheese and pepper" and traditionally is served as a pasta dish. In this lighter version, the pasta is swapped with shredded sprouts and tossed with a generous amount of grated cheese, black pepper, lemon, and even some toasted nuts for a nice little crunch."
by Grandbaby Cakes
"This Collard Greens recipe is a tribute to not only my childhood but to almost every other southerner. I've watched the hands that groomed and raised me make collard greens for decades, and the entire process was always so magical. That's exactly why I included my Big Mama (grandmother's) and my mama's hands in this post showing you how to make them too. The heritage and love associated with making greens for your family is something that can never be replaced."
No matter what your favorite side dishes are, we hope you'll try some of our recommendations with your Honey Baked Ham most of which are easy side dishes that you can whip up in less than 30 minutes! Christmas day is a time for family, friends, and delicious food, so make sure to enjoy it to the fullest. What are your favorite ham dinner sides? Let us know in the comments below!
More Recipe Roundups